Man on a Ledge asks a lot of its audience. The payoff is one smart thriller. Sam Worthington stars as a cop who is wrongly sent to jail when he is accused of stealing a massive diamond from Ed Harris. As the film begins, his brother (an excellent Jamie Bell) visits him in jail to tell him his father is dying. Worthington crawls back into his cell devastated. He is allowed to leave the prison to attend the funeral under the watchful eye of Sheriff's deputies and prison guards. Those officers, his brother and his girlfriend (Genesis Rodriguez) are the memorial's only attendees. When Worthington starts a fight with his brother, it causes a diversion that allows him to steal a truck and escape.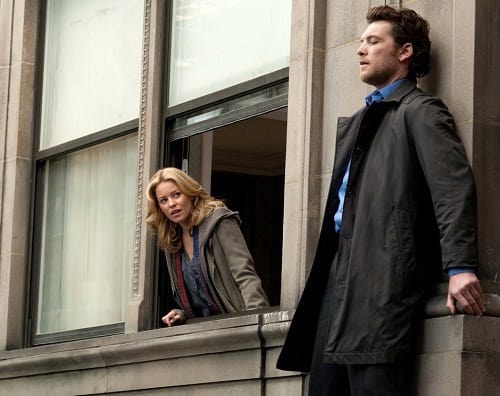 The audience then follows Worthington into a posh Manhattan hotel where he checks in, has a little lunch and then heads out on the ledge, dozens of stories above the city's streets. Quickly, someone notices and suddenly you have an old-fashioned New York City freak show where hundreds gather to watch a man perhaps plummet to his death.
Only that is not all that is going on… as the
Man on a Ledge trailer
shows, Worthington is out there to right the wrong against him and seek revenge on the man who was responsible for putting him in jail. As it plays out over the next 90 minutes with its slew of twists and turns, the film will leave you guessing how it will conclude.
Elizabeth Banks is a police negotiator charged with talking Worthington off the ledge. Also on the scene is Ed Burns, a fellow cop who has serious doubts whether this scene will end peacefully. Both have their own moments with Worthington throughout the film, particularly Banks. She is a tough-as-nails cop who has a dark secret herself that will play into the circus and whether it results in Worthington saved or flattened by the sidewalk below. It's refreshing to see Banks in a role that seems to be the opposite of hers in What to Expect When You're Expecting, or even her killer turn on 30 Rock.

Man on a Ledge is wildly original. It moves like an action movie, but also has all the elements of a solid thriller. At the center of it all is Worthington. His performance is pitch perfect and allows the audience's questions to build throughout the film, never playing his cards until he has to. As such, although this is largely an ensemble film with its great cast, it is Worthington who carries it on his hulky shoulders. Although the world of the film has deemed him a crook, the truth finds its way to the forefront with brilliant pacing as delivered by the Australian actor.