One for the Money Movie Review: Stephanie Plum Primed for Success?
by Joel D Amos at . Comments
Right off the bat in reviewing One for the Money, let's just say that it is a thankless task bringing a beloved book to the screen. More often than not, a cinematic experience cannot replicate a reader's imagination of what would visually be in their minds. When the story that is being adapted on film is from Janet Evanovich and involves a certain character named Stephanie Plum, anticipation could not be higher. There is inherently a collective raised eyebrow from the book's audience to deliver.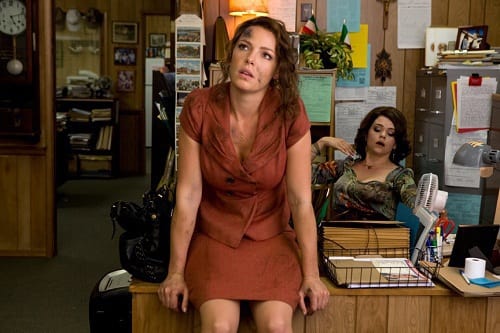 Katherine Heigl
is Plum in
One for the Money
. The actress also serves as a producer and as such, the film is as much her vision as anyone else's. There is much she achieves, but there are also a few potholes along the way.
Plum has just lost her job at the beginning of the film. She has few options except to take a position as a bounty hunter for her cousin's bail bonds business. Her first mission is to bring in the man who wronged her in high school, Joe Morelli (Jason O'Mara). He is a former cop who is on the lam, escaping a murder conviction. The two meet and explosives need to be detonated to replicate those found on the pages of Evanovich's book. Unfortunately, none exist between the two. The best chemistry in the film is that between Heigl and Sherri Shepherd as Lulu.
Shepherd, a self-professed Evanovich fan, knows every note of her prostitute, who yes... has a heart of gold. If
One for the Money
scores with fans at the box office, we look forward to future installments of the Plum series as Lulu's role is ever expanding and the chemistry of Plum and Lulu is one of the best parts of the entire franchise. The moments between Shepherd and Heigl possess such levity and laser sharp dialogue, we wish the entire film held up to that standard.
Director Julie Anne Robinson gets the most out of her cast, especially Debbie Reynolds as Heigl's grandmother. The hulky Ranger from the book series is played by Daniel Sunjata and the groundwork for a fiery relationship between Plum and Ranger is expertly established in One for the Money. Fans of the series may expect more of a Dwayne Johnson physique from their Ranger, yet Sunjata is that character on so many levels.

One for the Money is an entertaining introduction to the world of Stephanie Plum. It is probably a good sign that after witnessing the film, we actually want more from Heigl's Plum and the world that author Evanovich created.