The Oscar nominations have been announced and there were a fair share of snubs and surprises, including the absence of Tilda Swinton for Best Actress for We Need to Talk About Kevin and let's not ignore that there were only two nominees for Best Song! We think Bridesmaids being left off Best Picture is a snub, but in a weird way, having Melissa McCarthy and Kristen Wiig declared "Oscar nominees" for that film is one of the biggest surprises.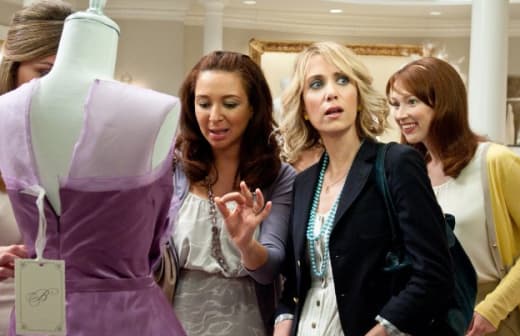 Snubs:
Throughout the awards season, besides Viola Davis and Meryl Streep, one name remained constant on everyone's list of Best Actress nominees: Tilda Swinton. Her work on
We Need to Talk About Kevin
was astounding, but perhaps the Academy felt that the movie itself was too dark. The Oscar winner played a mother of a killer. Too much? We're guessing so.
As we said earlier, Movie Fanatic is also surprised by
Bridesmaids
being left off the Best Picture nomination roll. Yet, Oscar does not traditionally reward comedies and thus another reason why it is time for a separate category for Best Comedy.
The Golden Globes
does it and Oscar should too. The film was on hundreds of
Top 10 Movies of 2011
lists -- including ours -- and in my opinion, should have been the tenth nominated film for Best Picture.
Some may say that Leonardo DiCaprio being left off the Best Actor list for his role in
J. Edgar
is a snub. Perhaps it is a minor one as the film was average and that most likely hurt Leo's chance of being an Oscar nominee in 2012.
Michael Fassbender had a phenomenal year, especially with his work on
Shame
and
A Dangerous Method
. He did not receive a single nomination for an astounding body of work in 2011. That could be because of several factors: The Academy saw this as a breakout year for an actor who will surely be nominated someday and the field was too crowded to include him.
Also missing from the Best Actor list was Ryan Gosling for his work on
The Ides of March
. He scored a Golden Globe nod for his work, but Oscar gave him the cold shoulder. Gosling's co-star in
Drive
, Albert Brooks, should have received a Best Supporting Actor nomination, but alas... he did not.
You could call
War Horse
earning an Oscar nomination for Best Picture and its director, Steven Spielberg, being left off the director's nominees a snub for sure. Also, the fact that his
The Adventures of Tintin
failed to secure a Best Animated Feature nod is a huge snub.
Surprises:
Topping our list of surprises is the nomination for Kristen Wiig and Annie Mumolo for Best Original Screenplay for
Bridesmaids
. McCarthy's notice for Best Supporting Actress is awesome, but not quite a surprise given the year she has had. But, the fact that Wiig can now add Oscar nominee to her resume is a huge shock.
The biggest surprise was the inclusion of
Extremely Loud and Incredibly Close
in Best Picture and its nomination for Max von Sydow for Best Supporting Actor. The film is astounding (check out
our review
) and both nods are more than deserved. When those two particular nominations were called, there were yells from the room of journalists, who are normally quite reserved at these functions!
A slight surprise comes in the Best Animated Feature category as a couple of below-the-radar films scored nods,
A Cat in Paris
and
Chico & Rita
.
Lastly, only two songs nominated for Best Song? We're beyond thrilled at
Man or Muppet
getting its due for
The Muppets
and we feel it will win. But in a year with so many great animated movies sporting some stellar soundtracks, and the Academy only awards two with a nomination? Now… that may be the biggest surprise of all. At least the song performance part of the already too long show will help keep the night short.