George Lucas has taken two decades to bring Red Tails to the big screen. The true story of the first legion of African American fighter pilots is at its least a powerful lesson in history. At its best it features some of the most incredible air fighting footage we've seen on the big screen.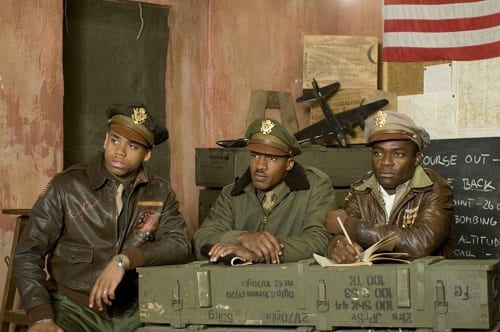 The film begins with a quote from an Army College study about how African Americans lack the tools necessary to be a capable fighting force. Of course we know it to be nonsense, and Lucas and director Anthony Hemingway spend the next two hours putting the proof in the pudding in the form of a rousing tale of bravery and sacrifice in the name of country, personal pride and breaking down the barriers of blatant racism.
The Tuskegee airmen were part of an "experiment" by a few forward thinking Pentagon brass that was almost not allowed to flourish. In
Red Tails
, Terrence Howard is Colonel A.J. Bullard. He is the man charged with convincing those in charge to give his airmen a chance at battling on the front lines instead of running missions chasing down German trucks carrying weapons on Italian roads.
In Italy, where they are stationed, we see those missions. The men are talented and excel at their tasks, but keenly know their role in winning the war is limited. Cuba Gooding Jr. is Major Emmanuel Stance and his charge is difficult: Maintain morale for his troops, despite what they know is a thankless job for a country that doesn't see them as equals.
Red Tails
does a solid job of setting up the situation, but truly shifts into high gear when the men are allowed to take part in a mission providing air cover for a beach landing of ground troops. They succeed, and even achieve success in a manner that the Pentagon can now not ignore.
The cast who portray the airmen and the ground crew who keep them flying is top notch. Particularly impressive is the work done by Tristan Wilds (
90210
) as Ray "Junior" Gannon and Nate Parker as Marty "Easy" Julian, the troupe's leader in the sky.  
Perhaps because of Lucas' involvement, there are shades of
Star Wars
, particularly in the air battle scenes. With the advancement in technology, those dogfights are breathtaking. But, the film does feel at times a little amateur in its presentation of character development and plot movement. That doesn't limit
Red Tails'
power. It is a truly inspiring tale that is a must-see for teens everywhere (the film is rated PG-13 for violence, or it would be a must-see for all kids). For them, it may be hard to imagine a world where anyone wasn't allowed to pursue their dreams, much less a skill in which they excel.
Audiences know that these real life heroes would return from war adorned with medals for their valor. Yet, they would go back to a life of segregation and discrimination that would not ease for decades to come. In one particular scene, the hope of a future that could be is expertly captured. After securing the safe mission of a legion of bombers, the crew of those massive planes sees the Red Tails, as they are called because of their planes' red tails, outside an officer's club. Where previously one of the Tuskegee airmen got in a bar fight for trying to enter the all-white club, they are now taken in and bought drinks. The moments inside that bar where the two races share drinks and war stories give us a glimpse into the future that might be, and that is Red Tails' greatest triumph.

They say that those who do not learn from history are doomed to repeat its failures. Witnessing those intimate moments in that bar between men who are soldiers first, and white and black men second, provides that lesson learned and is the greatest of Red Tails' merits.