Red Tails may have shocked pundits when it landed in second place at the box office last week, but not Movie Fanatic. The film from George Lucas is a harrowing tale of the true life sacrifice that the Tuskegee airmen endured to help ensure our freedom when they assisted in bringing down the Third Reich.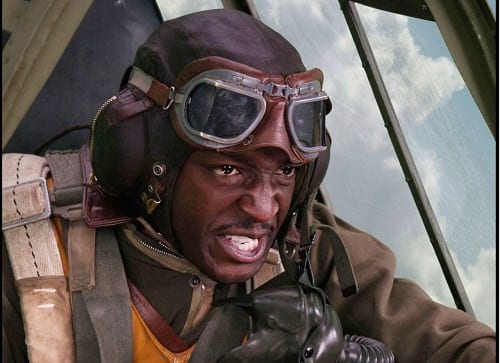 As it is such an inspiring piece of work, the film has a slew of quotes that might even get you up, ready to saddle up and fly into battle. Cuba Gooding, Jr. is Major Emanuelle Stance, the man on the airbase in Italy charged with keeping his airmen inspired and primed for war. Colonel A.J. Bullard is played by Terrence Howard and it is him that finally gets America's first African American fighting force a mission that actually helps the war effort.

Then, there are the pilots themselves played by some of the best up-and-coming actors we have. All told, they produce a solid film that not only lifts the spirits, but also reminds us how far we have come. Get ready for battle; here are the best of the Red Tails quotes:
We have a right to fight for our country, the same as every other American. We will not go away.

Colonel A.J. Bullard
We count our victories by the bombers we get to their targets, by the husbands we return to their wives, by the fathers we give back to their children. To the last minute, to the last man we fight. We fight!

Colonel A.J. Bullard
You get us the mission, we'll light up the board.

Colonel A.J. Bullard
General Luntz: I can't afford the kind of losses my bombers have been suffering. Can you help save lives?
Colonel A.J. Bullard: If you get us new planes, we can help your boys.