The Avengers heads into theaters May 4 and thus far, has been shrouded in secrecy. Movie Fanatic has uncovered a slew of plot points and if you don't want The Avengers story spoiled, stop reading now and head over to our Top 10 Most Anticipated Films of 2012 (of which Avengers is one).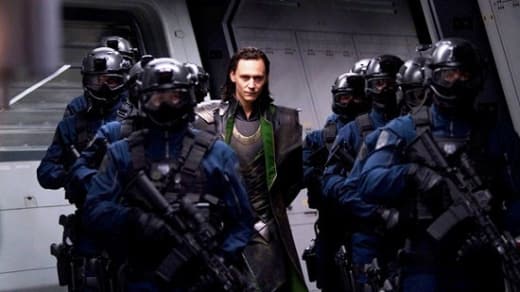 What do we know? Well, for one… Hugo Weaving is back as Red Skull. We first saw him in
Captain America: The First Avenger
and it appears he will cross paths with
The Avengers'
main bad guy, Loki. Loki, as you recall, is the brother of Thor from the
Thor
movie and his presence on Earth is what compels Samuel L. Jackson's character, Nick Fury, to call his Avengers into duty.
Loki is also spending time with Thanos. Rumors have abounded that Thanos would be in
The Avengers
and now we can confirm that is true. The devious Loki tricks Thanos… how? First, since Fox owns the rights to the alien race The Skrull, Marvel had to change the alien shape shifters to The Redacted. So, back to Thanos and Loki: Loki pulls the wool over Thanos' eyes when he convinces him that the Infinity Gauntlet is more powerful than the Infinity Gems. When Loki gives Thanos the Infinity Gauntlet, he in turn gives Loki The Redacted for his mission to destroy Earth.
By now, we're sure you're curious about Red Skull and his dealings with Loki. Loki and Red Skull split up the Infinity Gems with Red Skull garnering the Soul, Time and Space, and Loki taking the Mind, Reality and Power gems. Something tells us, given Loki's dealings with Thanos, that Red Skull will regret that deal.
Now, for the biggest reveal! Loki will eventually join
The Avengers
! How? Stay tuned for more and while you're at it... check out
The Avengers trailer
!