Liam Neeson owns The Grey. He commands every frame in the story of a group of Alaskan oil drillers whose plane crashes on their way home after a stint drilling in the Arctic.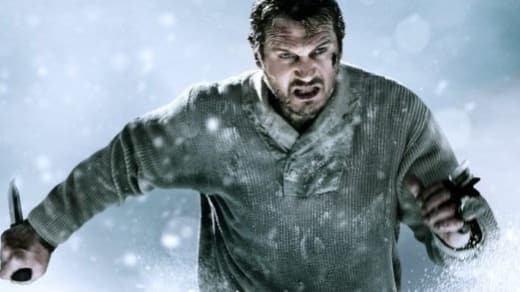 The film begins with Neeson doing his job at the refinery. Immediately, the Irish actor commands our attention. He is clearly a lost soul on the verge of self destruction. Yet, as soon as he awakes in the frozen tundra after the crash, Neeson's Ottway emerges as a post-facto leader. When a pack of wolves encircles the survivors, it is Ottway that grabs a torch and issues instructions that save everyone's lives… for now.
Man-versus-nature cinema is littered with failed attempts at pitting the two in a battle to the death.
The Grey
reverses that trend by giving life to those the wolves want to kill. The film's cast matches Neeson's intensity and the end result is a crisp thriller that also possesses a ton of heart and surprisingly, a fair amount of humor.
Nonso Anozie, Frank Grillo, James Badge Dale,
Dermot Mulroney and Dallas Roberts
deliver in their characterizations that could have been caricatures in an action film. There are layers to each actor's performance that bring the audience into their plight while pulling for them to make it out alive. Traipsing through the snow-swelled landscape, the plane crash survivors have their integral individual moments in the movie's trajectory. As such, we identify with each and every one of them.
At the end of the day,
The Grey
is the Liam Neeson show. When the film's penultimate moment arrives, Neeson is able to bring the entire movie to a rallying conclusion by himself, hardly saying a word.
Joe Carnahan, after working with Neeson on The A-Team, has a shorthand with the actor and has presented his colleague a screenplay that lives and dies with his participation. Carnahan, for his part, packages the star in a film that plays to his strengths. The director allows his cast to flourish, but still keeps the main voice and visual focus on his lead.

The Grey possesses all sorts of elements that make it a must-see. There is the spine-tingling suspense. It has immense heart. The landscape is a marvel that simultaneously awes and could showcase death at every corner. Its cast brings their best and what emerges is an audience experience that not only relishes a two-hour trip through top-notch thriller land, but also leaves one with a burgeoning fascination with the creatures who share history with those beasts who sit at our feet.