The Grey triumphed this week, giving Liam Neeson his fourth number one film in a row at the box office. The story of Neeson and his plane crash survivors who must fight a pack of wolves to even make it out of the Alaskan wilderness alive is riveting to say the least. It's a harrowing tale, filled with inspiration about the human spirit and what we are capable of when our backs are against the wall.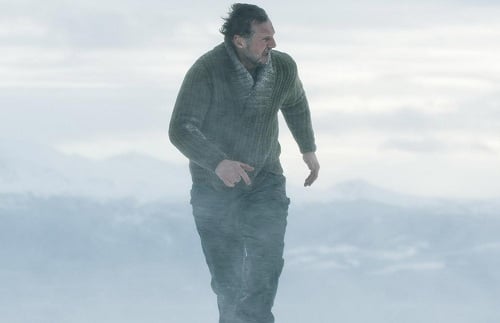 As such, the film possesses a slew of fantastic lines and even a poem written by the father of Neeson's character Ottway that carries him through the tragedy. Without further ado, we present the best of
The Grey quotes
-- and yes, the best lines are saved for the film's star!
Ottway:
Don't be afraid. |
permalink
Diaz:
Fate didn't give a (expletive). Dead is dead. |
permalink
Ottway:
(Expletive) faith. Earn it. |
permalink
Ottway:
The last transformer blew. I think we hit oil, either way we's killin wolves! |
permalink
Ottway:
I'm going to start beating the (expletive) out of you in the next five seconds. |
permalink
Ottway:
Once more into the fray
Into the last good fight I'll ever know
Live or die on this day
Live or die on this day |
permalink
Ottway:
Don't move. Stare right back at them. |
permalink
Ottway:
We figure what way is south and we start walkin'. |
permalink
Ottway:
There's not a second that goes by when I'm not thinking of you. |
permalink