Gary Ross has long ago finished principal photography on The Hunger Games and has clearly seen, what he thinks, is star Jennifer Lawrence at her best. The actress is Katniss and as we saw in The Hunger Games trailer, she really nails the character created by author Suzanne Collins.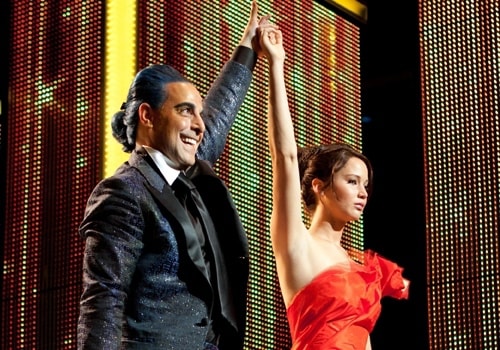 "The range in this performance, the emotional terrain that she investigates, the demands of what this role [is] -- it's such an intensely physical role and an emotional one. She carries the entire movie," Ross told
Entertainment Weekly recently
. "To be able to do that at that age is so kind of incredible that I was in a little bit of awe. Do I think she should be nominated? Absolutely."
The Hunger Games
was filmed over a grueling 83-day shoot and the actress reports that the entire crew bonded fiercely. "We were all a family. Everything that I love about the movie, and everything that got me to say yes to this movie, was Gary," Lawrence reported. She especially found common ground and a friend for life in her director. Yet, he also teased her frequently that he would only direct the first film in the trilogy and leave her with a new helmer for
Catching Fire
.
"He wanted me to worry about it, because he enjoys my anxiety. That was a huge, huge thing that he used to lure over my head. Like a bastard! I still don't know for sure," she said. "Is he definitely doing it?"
According to the director with his description of his vision for the second film, it sure sounds like he'll be back. "I love the title
Catching Fire
because from the moment Katniss was willing to eat the berries, the moment she was willing to give her life for something larger than herself, she set off a chain reaction that was at once bigger than her and also because of her," Ross said. "That's a very exciting movie to make because you're seeing the emergence of a leader. It's the birth of a revolution so it has context that's larger than just the Games themselves."
Now, some actresses may give pause when signing on to a series, for fear of type casting the rest of their career. Lawrence apparently did not worry one bit. "Signing onto the movies I was like, 'Well, I'll probably love the first one and then I'll just want to get the rest of them out of the way.' But I can't wait to start training. As soon as they were like, 'We need to start training in July,' I was like, 'Woo-hoo!' I can't wait to get back," Lawrence said. "Though I don't know if that's because I think we might shoot in Hawaii."
Be sure to stay with Movie Fanatic this week for your chance to win tickets to The Hunger Games premiere!