It's time to start the music as The Muppets are coming home on Blu-Ray and DVD. Jason Segel stars and co-wrote the franchise's reboot with Nick Stoller (check out our exclusive interview). The film arrived in November 2011 to great fanfare and now you can witness it at home when it debuts March 20.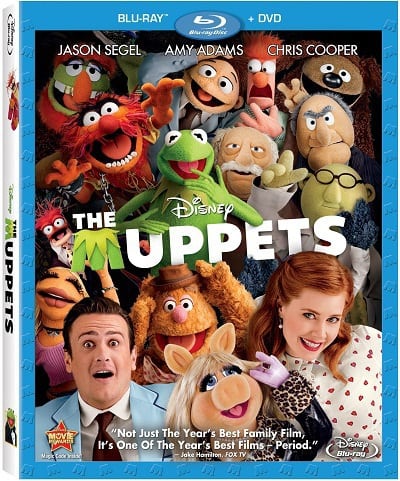 An added treat offered in the Blu-Ray/DVD Combo Pack is the full soundtrack! What else can fans expect from
The Muppets
home video?
For one, Disney is introducing a new feature to the Blu-Ray library called "Disney Intermission" that allows viewers to pause the film and have the Muppets characters appear on the screen and entertain until the movie is continued.
A slew of behind-the-scenes extras are featured as is a hilarious blooper reel. According to the film's stars, this is the moment Muppets fans have been waiting for.
"Blu-ray is a great way to bring the Muppets into your home without having to worry about cleaning up after us," said Kermit the Frog. "The behind-the-scenes extras are a revealing tell-all look at what it took to bring our movie to the big screen. It's a must-see for fans of bloopers, flubs and slip-ups – which pretty much describes our act."
Miss Piggy, never one to keep her opinions to herself, adds her two cents. "Now you can watch moi whenever you want! Ooh! Lucky vous!"