It what was billed as a battle between two women who kick butt. Kate Beckinsale and her Underworld Awakening trounced the debut of MMA star Gina Carano and her flick Haywire at the weekend box office. Beckinsale's return to the role of Selene scored $25.4 million, easily winning the box office battle.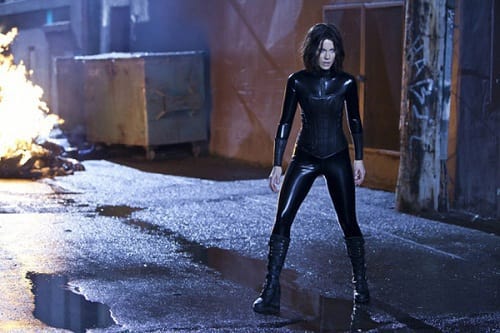 Coming in second, and doing surprisingly well, was the George Lucas-produced
Red Tails
, the inspiring true story of the Tuskegee airmen. That film earned $19.1 million in its first week of release, followed in third place by last week's number one film,
Contraband
.
In its first full week in national release after Oscar qualifying openings in New York and LA at the end of the year,
Extremely Loud and Incredibly Close
came in fourth. The story about the days after 9/11 for a boy who lost his father in the Twin Towers banked $10.5 million.
Landing in fifth was the Steven Soderbergh (check out our
Top 10 Soderbergh movies
) directed
Haywire
. His latest sold $9 million in tickets in what could be classified as an OK opening. Hopefully word of mouth will help the flick that Movie Fanatic adored.
Box office top 10:
1.
Underworld Awakening
, $25.4 million
2.
Red Tails
, $19.1 million
3.
Contraband
, $12.2 million
4.
Extremely Loud and Incredibly Close
, $10.5 million
5.
Haywire
, $9.0 million
6.
Beauty and the Beast 3D
, $8.6 million
7.
Joyful Noise
, $6.1 million
8.
Mission Impossible: Ghost Protocol
, $5.5 million
9.
Sherlock Holmes: A Game of Shadows
, $4.8 million
10.
The Girl with the Dragon Tattoo
, $3.8 million