Underworld Awakening landed at the top of the box office, showing that fans of the series were more than pleased that Kate Beckinsale was back as Selene. Beckinsale sat out the third film and is back with a vengeance in the fourth as her vampires not only battle Lycans, but also humans who are now aware of her kind's existence.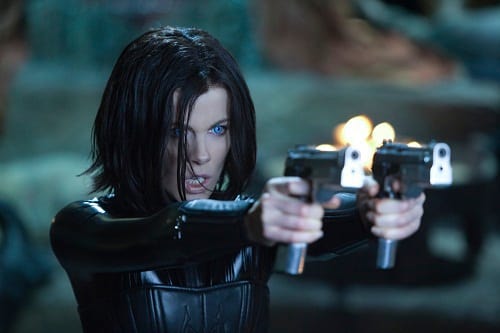 The film is a raucous actioner and provided us with more than a few memorable lines. Movie Fanatic has compiled some of the best
Underworld Awakening quotes
and we will add more as the days go by.
Selene:
I was with him one day, and when I awoke it was 12 years later. |
permalink
Selene:
For 12 years I was held captive by the humans. The world I once knew has changed. Vampires and Lycans are now the hunted. |
permalink
David:
If we are to survive as a species, we must resist the humans. |
permalink
Selene:
This is a new war. And it's only beginning. |
permalink
Selene:
My heart's not cold, it's broken. |
permalink
Selene:
Everything they've told you is a lie. |
permalink
Dr. Jacob Lane:
Your kind will never be as powerful as us. No matter how hard you fight, you won't win.
Selene:
You don't know me very well. |
permalink
Selene:
She's the only hybrid child that's ever existed. |
permalink
Selene:
This day was bound to come! |
permalink