War Horse is gaining momentum for scoring a nomination for Best Picture come Oscar time. With the announcement today of the Producers Guild Award nominees and War Horse's inclusion, the Steven Spielberg-directed film is ever close to that elusive Best Picture nod.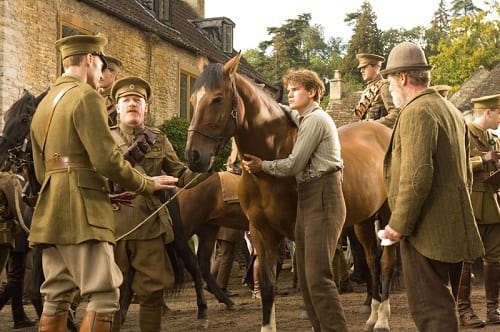 An inspiring tale of a man, Albert, and his horse, Joey,
War Horse
takes place during World War I and explores what happens when the horses of England are called into duty to fight the Germans on the front lines of continental Europe. Jeremy Irvine is Albert, who when he is old enough joins the fight, largely to find his horse Joey.
As it is such a stirring tale, there are plenty of memorable lines, and here are just a few of the best
War Horse quotes
.
Albert:
Wherever you are, I will find you and I will bring you home. |
permalink
Major Jamie Stewart:
Gentlemen, it is an honor to ride beside you. Make the Kaiser rue the day he crossed swords with us. Let every man do himself, his King, his country, and his fallen comrades proud. Be brave. |
permalink
Albert [To Joey]:
You're not alone, are you? Because I'm here. |
permalink
British Soldier in No Man's Land:
You speak English good.
German Soldier in No Man's Land:
I speak English well! |
permalink
Albert [crying]:
It's my horse sir. |
permalink
Commander:
There's something moving.
Soldier:
Well, what is it?
Commander:
It's a horse they found wandering about in No Man's Land.
Soldier:
What kind of a horse?
Commander:
A miraculous kind of horse, would be my guess. |
permalink
Soldier:
There he is: War Horse. |
permalink