When this year's Oscar nominations were announced, the consensus was that the Best Actress category was a given. Meryl Streep soared in her role as Margaret Thatcher in The Iron Lady. Yes, she has a record number of nominations, but has only won two… and it's been awhile since she last held the golden trophy. But, Movie Fanatic would not count out Viola Davis from The Help. We believe our readers feel the same way, so we are asking: Who do you think should win the Academy Award for Best Actress?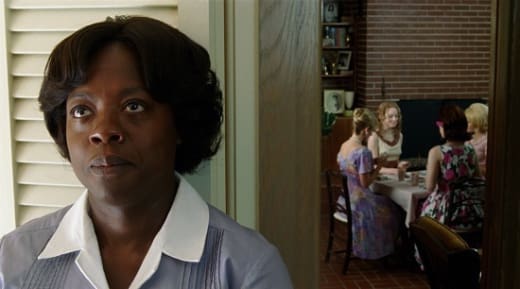 Streep is beyond astounding in
The Iron Lady
, and honestly the only reason to see the average movie (check out our
review
). There is no doubt she gives among her top five performances of her career in the film, and is warranted of the Oscar. But…
Davis was remarkable in
The Help
and carried an excellent film to greatness. After having just picked up the
SAG Award
for Best Ensemble, believe that those who vote on the Oscars, i.e. the SAG members, are going to be pulling for Davis. Plus, what a story that would make: Davis beating the mighty Meryl Streep.
Earlier in the year, a favorite to win was Michelle Williams for her role in
My Week with Marilyn
. Williams scores her own career best in the film, but this is simply not her year, although, her Marilyn Monroe performance is one for the ages. Every other performance going forward of that icon will be held to Williams' standard.
Rooney Mara announced to the world that she is a force of nature in
The Girl with the Dragon Tattoo
. That alone was worth the nomination, but will have to do as enough recognition for this up-and-coming actress.
Then, there's Glenn Close who played a man with pristine perfectness in
Albert Nobbs
. With the strength of this year's category, she too will have to be satisfied with a nomination.
Who do you think should win the Best Actress Oscar?