Movie Fanatic is in Hollywood, more than ready to tackle the 2012 Academy Awards. Either to accompany your watching of the big show on ABC with Billy Crystal hosting, or, if you can't get near a TV, we have you covered with an Oscar play-by-play! From Crystal's opening to the award of Best Picture, stay with us throughout the evening as Tinseltown's biggest night unfolds.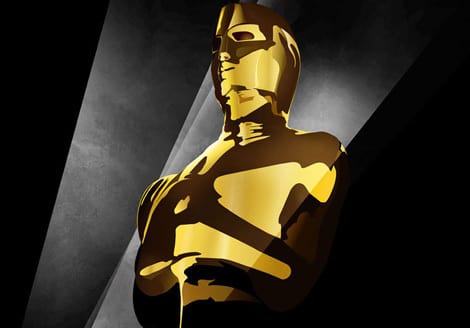 8:30 p.m.
Morgan Freeman takes the stage and we're off! "This magnificent event allows us to celebrate the present and celebrate the past," he eloquently said.
8:31 p.m. Billy Crystal parodies The Artist in his opening bit as his year in movies montage begins. Now, Billy's where Clooney's onscreen wife is in The Decendants. Clooney kisses Crystal! The host is in Moneyball and Jonah Hill is game for being part of it. Justin Bieber jokes about getting the 18 to 24-year-old demographic as they spoof Midnight in Paris. Eating Octavia Spencer's pie in The Help... it's Billy! Now, Crystal is Tintin, not so sure. Will tell you one thing: It's glorious that Crystal is back!
8:36 p.m. Crystal takes the stage to thunderous applause, rightfully so. He is our generation's Bob Hope. Wow! His opening song manages to get all nine nominated films. Although the sound mixing is off, the music's too loud and we cannot hear all of Crystal's lyrics. But, we're getting most of it. "Nine is the new five," Crystal said as the song concludes!
8:41 p.m. Tom Hanks comes out to give the first award, Best Cinematography. The winner is: Hugo! Movie Fanatic predicted it! Second, Hanks announces Best Art Direction. And the winner is... Hugo. We're on a roll... two for two!
8:47 p.m. Had no idea that Sheila E. is leading the Oscar band... great call!
8:50 p.m. Crystal introduces a salute to movies montage that includes Forrest Gump, Titanic, Twilight, The Princess Bride, Avatar, Ghost, The Godfather, Star Wars and Jaws.
8:54 p.m. Cameron Diaz and Jennifer Lopez take the stage to award Best Costume. Appropriate since those two have won their fair share of fantastic costumes. The winner is: The Artist. Movie Fanatic is three for three in predictions!
8:55 p.m. Diaz and Lopez stay on the Kodak Theatre stage to present Best Makeup. After Diaz and Lopez ham it up to no laughs, except for this guy... your winner is The Iron Lady!
9:00 p.m. A slew of Hollywood heavyweights including Helen Mirren, Tom Cruise, Barbra Streisand, Adam Sandler, Reese Witherspoon and Freeman all extol the virtues of their first film-viewing experience and how those influenced their decision to get into the business.
9:05 p.m. The always classy Sandra Bullock enters to present Best Foreign Film. The academy winner jokes about how she is asked to introduce the category in Chinese Mandarin. In fact, she does it in German! The winner of Best Foreign Film is: A Separation. Movie Fanatic could not be more thrilled as the Academy has awarded the film from Iran, a country whose government is rattling its sword at the world, and to see the Oscars extend an olive branch is tremendously moving.
9:09 p.m. Christian Bale enters to award the Best Supporting Actress award after a few jokes at his expense from host Crystal. The Dark Knight Rises star looks great as he presents Octavia Spencer the award for her work on The Help. Spencer wows us with her speech as her The Help co-stars relish in the amazing moment. The crowd gives her a standing ovation that brings the star to tears.
9:19 p.m. A funny bit about the very first focus group discusses The Wizard of Oz. Christopher Guest's movie troupe is an impeccable choice to fill out the "focus group."
9:22 p.m. Bradley Cooper and Tina Fey take the stage to introduce the winner for Best Editing. Your winner is: The Girl with the Dragon Tattoo. This is the second year in a row for Kirk Baxter and Angus Wall, who won last year for The Social Network.
9:25 p.m. Cooper and Fey stay on stage to award Best Sound Editing. And the Oscar goes to... Hugo!
9:27 p.m. The duo announce the Sound Mixing Award. Guess who won? Hugo! And Movie Fanatic is eight for nine thus far in predictions!
9:34 p.m. Miss Piggy and Kermit the Frog make their Oscar night debut as they talk about their first movie experience. Then, they introduce a Cirque du Soleil piece that interprets what it's like to go to the movies. As only Cirque can, the performance is electrifying, riveting and robust with power.
9:39 p.m. Crystal states, "Wow. I pulled a hamstring just watching that." That's why we love him back as host! Then he introduces Gwyneth Paltrow and Robert Downey Jr.
9:40 p.m. Paltrow and Downey take the stage to present the Documentary awards. Downey jokes he is filming a movie called The Presenters. "It will be on Netflix by midnight," Downey said. The winner for Best Documentary is Undefeated in an upset. Stay with Movie Fanatic as we bring you our interview with the filmmakers tomorrow.
9:44 p.m. Chris Rock takes the stage and talks up his passion for animation before awarding the Best Animated Feature award. One of our favorite films of 2011, Rango wins Best Animated Feature!
9:52 p.m. Melissa McCarthy shows why she is so funny in a bit with Crystal as they introduce Emma Stone and Ben Stiller, who are there to present Best Visual Effects.
9:53 p.m. Stiller and Stone show great comic chemistry. And Stone nails it with her wonder-eyed presence as a first time Oscar presenter. And the Best Visual Effects Oscar goes to: Hugo! Now, we have to take a moment to say that we adore Hugo, but yet again Harry Potter gets shut out at the Oscars. That, my friends, is a crime.
9:58 p.m. Melissa Leo, last year's Best Supporting Actress winner, takes the stage to award Best Supporting Actor. The winner is hardly a surprise, yet is still an absolutely wonderful moment as Christopher Plummer wins his first Oscar. The standing ovation from the crowd is so heartwarming. "You're only two years older than me darling. Where have you been all my life?" Plummer stated to his golden statue as he begins his speech.
10:08 p.m. Crystal does a bit where he takes the visuals of celebrities and tells us what they are thinking. It kind of worked, kind of didn't. The Brad Pitt bit worked, Nolte, not so much.
10:11 p.m. On the other hand, his joke about the Academy president "whipping the crowd into a frenzy" works big time.
10:12 p.m. Former Woody Allen stars Penelope Cruz (Vicky Cristina Barcelona) and Owen Wilson (Midnight in Paris) come out to present for Best Original Score. And the Oscar goes to: The Artist... as we predicted!
10:18 p.m. Will Ferrell and Zach Galifianakis enter the Kodak Theatre slamming cymbals at Brad Pitt and Angelina Jolie. Expect anything less from these two funnymen? The pair announce the winner for Best Original Song: Man or Muppet by Bret McKenzie. Don't miss our exclusive interview with winner McKenzie!
10:24 p.m. Angelina Jolie takes the stage as Crystal announces her as "The original Girl with the Dragon Tattoo." She presents Best Adapted Screenplay. The winner is The Descendants. The winners immediately make fun of Jolie and her sticking-out-her-leg stage presence. Jolie remains to award Best Original Screenplay. The Oscar goes to... Midnight in Paris.
10:37 p.m. Milla Jovovich reports on her experience hosting the Oscar technical awards luncheon.
10:38 p.m. The Bridesmaids take the stage to announce three awards! Best Live Action Short is first... and the winner is: The Shore. Documentary Short is awarded next to Saving Face. Best Animated Short Film is awarded to The Fantastic Flying Books of Mr. Morris Lessmore.
10:50 p.m. A legend walks... Michael Douglas enters to award the Best Director Oscar. As expected, Michel Hazanavicius wins for The Artist.
10:55 p.m. Another legend walks... Meryl Streep takes the stage to talk about the Governor's Awards from November 2011 that honored Dick Smith, Oprah Winfrey and James Earl Jones.
11:03 p.m. Crystal introduces the in memoriam segment that pays tribute to those film business veterans we lost in the past year to a stirring rendition of What a Wonderful World.
11:13 p.m. Last year's Best Actress winner, Natalie Portman, arrives to present Best Actor. And the Oscar goes to: Jean Dujardin! Cheers to the Academy for awarding the Oscar to the Frenchman. We adored that he finished his exuberant speech and did his dance from the film. You had to look carefully or you would have missed it as Oscar producers pulled the camera away.
11:24 p.m. Colin Firth arrives to mark a year since he won last year for The King's Speech. He is there to present Best Actress. The winner is: Meryl Streep! It's hard to call this an upset, but of late the pundits (including us) believed that this was Viola Davis' year. But kudos to you, Ms. Streep! It's been 29 years since our greatest actress received an Oscar and it's about time that that streak of losing to other actresses ends.
11:32 p.m. Tom Cruise hits the stage to present Best Picture. It all comes down to this. The 2012 Oscar winner for Best Picture is The Artist. Although not so much a surprise, it is truly a joy that the Academy Award went to the most deserving.
Stay with Movie Fanatic throughout the evening as we explore the Oscars and who won what and why!