Act of Valor filmmakers Mike "Mouse" McCoy and Scott Waugh were offered an interesting option for their latest film. The Department of Defense presented the idea of the duo using real Navy SEALs to play the ones depicted in their new thriller. Needless to say they jumped at the opportunity and the result is some of the most incredible action sequences we've ever seen on film. It's hard to get the intricacies of a firefight wrong when your actors have actually been in quite a few.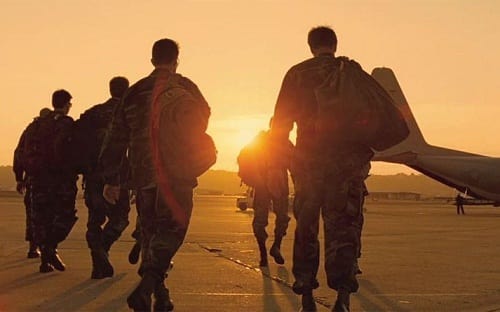 McCoy and Waugh recently sat down with Movie Fanatic at the Beverly Hilton Hotel (sadly one floor below where
Whitney Houston
had died the day prior) to chat about their new film, giving us insight into any national security concerns that they had to be conscious of, as well as the process of taking non-actors and putting them to work on a movie set.
"We formed the story around two big set pieces. There were the five acts of valor that they told us about," Waugh said of their real SEALs stars' experiences in the field.
"There were multiple acts of valor, but we found five of them that Mouse and I really liked because they were very powerful stories that we wanted to weave a fictitious storyline through. That's when we brought in Kurt Johnstad (screenwriter) to help us write an enemy threat line through these five acts of valor. But, the thing that was really interesting was that, once the eight guys we approached said no, and then finally said yes, Kurt wrote the screenplay around them. They were themselves. They were never playing characters. He got to meet all the guys and understand them."
McCoy reported that once the screenplay was in hand, the SEALs' participation in crafting the film never ended. "On a day-to-day basis, scene by scene, they would really rewrite the dialogue, as it would be in that moment. So, it became very comfortable for them. It became a natural thing," McCoy said. "They were saying what they would say, in their own voice. They weren't playing characters, they were just being themselves."
Something happened once principal photography finished on
Act of Valor
that caused an unexpected boost in interest in the elite fighting force: The capture and killing of Osama bin Laden. "I think it probably raised the awareness of the SEALs with the American public. But for us, as filmmakers, it wasn't really about, 'Yeah, you took down the bad guy.' It was more about, 'Wow, you guys did that for each other on the battlefield. You laid it down,'" McCoy said. 
"I think the year is very representative of the feature. Within this last year, the teams have had incredible victories," Waugh added. "For the four years that Mouse and I were making the film, we'd always said, 'We don't have stars for our movie, we have heroes.' We've been saying that very loud, but they didn't hear us before."
The filmmaking duo were inspired day in and day out by the "heroes" that were their "stars." Their valor appears to be something that McCoy and Waugh will always take with them, long after the attention on
Act of Valor
fades.
"They were some of the most humble men we've ever met," McCoy said. "They've been extremely misrepresented in popular culture, especially in film. The guys aren't some crazy Rambo/Terminator dudes. They're actually really genuine, down-to-earth, good guys who are fantastic family men and fathers. The devotion to their family and their kids, and their ability to go do their jobs but still be great dads, is what stood out for us."
Waugh reported that one thing that surprised him was the tightness of the soldier brotherhood. It was imperative that they capture that in their film. "All I knew was Charlie Sheen in that Navy SEALs movie, and I was pretty sure that probably wasn't accurate. So then, when we got to meet the guys, they were the antithesis of everything they've been portrayed as," he said. "It's almost like they're trying to be the perfect man because they're constantly educating themselves. We stop educating ourselves. They just keep pushing themselves to become better people."

"They're definitely some of the most intelligent and intellectual men you've ever met. They're maybe even smarter than they are tough, if that's possible," McCoy added. 

Lastly, we wondered whether it would be difficult for McCoy and Waugh to return to making action movies, using actors and stuntmen, where once stood real-life Navy SEALs.

"We respect actors. They're great. But, these guys were the opposite of that prima-donna character," McCoy said.

"We were shooting the scenes in the swamp and the assistant director said, 'Okay, get make-up in here to spray them down with water to make them look like they're getting out of the swamp.' There were alligators and snakes and every bad thing in that swamp! The guys just jumped back in the swamp and said, 'Okay, we're ready to go. We're good.'"