Using real-life anybodies in film has had a so-so record in Hollywood history, so how does Act of Valor fare? For one, any previous efforts did not feature currently serving Navy SEALs providing an insight into action that sets this movie apart. Rarely have I seen fighting sequences executed with such realism. Mike "Mouse" McCoy and Scott Waugh made a film with men and women who lived it and, as such, bringing the sights and sounds of fighting for your life, your family and your country's freedom to life is shown as never before.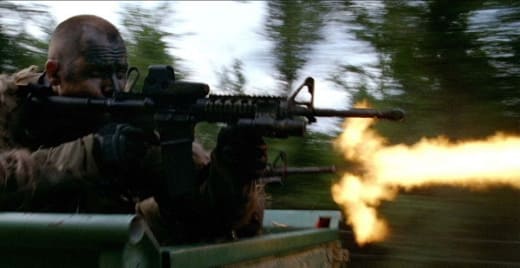 Act of Valor
even used live rounds because of things their real-life Navy SEAL stars reported movies had gotten wrong in the past -- seems there's something in the sound of a bullet being fired. After witnessing McCoy and Waugh's war story, those little changes bring an authenticity to the film's battle scenes.
When the movie commences, one of the Navy SEALs turned movie star is providing a voice-over narrative as our scene is set. It's a patriotic, heroic and valorous beginning. We meet the elite fighting force while the filmmakers jet us off to a Southeast Asian landscape where a terrorist bombing has taken place and a CIA operative (Roslyn Sanchez, one of the few trained actors in the film) has been kidnapped, tortured and interrogated profusely.
The men of
Act of Valor
gather at a San Diego campfire near their home base and salute life with their families. They know they are shipping off in the morning, but the film shows that, for these guys, life is about the five minutes in front of you. Treasure the moments with family and loved ones because before too long, the future is quickly called into question.
Our guys jet off to where intelligence has stated the kidnapped operative is being held. They jump from tens of thousands of feet up, landing in a foreign land where they are not welcomed, but most importantly… not expected.
At this point in the film one realizes two things: Never before have action sequences been so meticulously shot, choreographed and executed, but also how non-actors -- even when being "themselves" -- can seem stiff and at times painful to watch. As insane as the fighting scenes are, the camaraderie-building sequences between guys being guys are a little less enjoyable.

All in all, Act of Valor is a must-see-in-the-theaters experience. It's a solid story that introduces not only action thrills around every corner, but suspenseful sequences that will have you biting your nails. Then, when the tension of suspense lets loose into bullets flying and hand-to-hand combat commencing, Act of Valor rises above anything seen in the genre in some time.