Act of Valor has clearly struck a chord with audiences as the film opened atop the weekend's box office. Also enamored with the film are Hollywood celebrities who have tweeted about the film since its February 24 debut. Here's a sampling of the stars' sentiments via Twitter: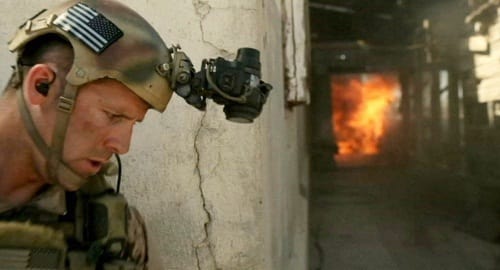 Twilight Saga
star @Kellanlutz said: Just viewed a screening for
Act of Valor
, Love our military and the honor and valor they stand for! Amazing job to everyone!
Battleship
star @BrooklynDecker reported:
Act of Valor
looks really, really good.
Arnold, the historical action movie king, @Schwarzenegger said: @TimTebow, fantastic to see you at the
@ActOfValorFilm
premiere. It was great to support such a great film with real heroes with you.
Then, there's that guy who once appeared in a movie called
Navy SEALs
, @CharlieSheen: #ActOfValor, can't stop thinking about this film! Game changer in action films… Features real Navy Seals!  Watching again right now!
The film features its fair share of inspirational movie lines from the real life heroes that are our Navy SEALs. Capturing action sequences with men who live and breathe this for a living has given audiences not only the best battle scenes we've seen in some time, but some fantastic
Act of Valor quotes
to chew on for weeks to come.
Chief Dave:
When your time comes to die, be not like those whose hearts are filled with fear of death, so that when their time comes they weep and pray for a little more time to live their lives over again in a different way. Sing your death song, and die like a hero going home. |
permanlink
Navy Seal #2:
There's a brotherhood between us. And if you're not willing to give up everything, you've already lost. |
permalink
Navy Seal #1:
You live your life by a code, it's your shore line - it's what guides you home. And trust me, you're always trying to get home. |
permalink
Navy Seal Wife:
Be safe.
Navy Seal #2:
You know I will. |
permalink
Navy Seal #1:
You don't expect your family to understand what you're doing. You just hope they'll accept it. And when you get home, you hope you can pick up right where you left off. |
permalink
Navy Seal Commander:
This thing is way bigger than we thought it was. They're going to hit us at home.
Navy Seal:
That ain't gonna happen. |
permalink
Combatant:
Just imagine 16 vests filled with ceramic ball bearings, slipping by every metal detector in your country.
Navy Seal Commander:
And this is happening now?
Combatant:
It's happening as we speak. |
permalink