The Amazing Spider-Man director has broken his silence and has talked to a Comic-Con magazine about his upcoming reboot of the web slinger story. Mark Webb states that the difference between his Spider-Man and director Sam Raimi's films will be prevalent throughout. The first element has to do with the character of Gwen Stacy, played by Emma Stone. "I think that Gwen Stacy is a young scientifically minded woman who's super smart, maybe even a little bit smarter than Peter at times. I like that dynamic, that there was a rivalry between the two of them in some way," Webb said. "And I think Emma [Stone] and Andrew's [Garfield] chemistry really describes that in a fun, very intimate way."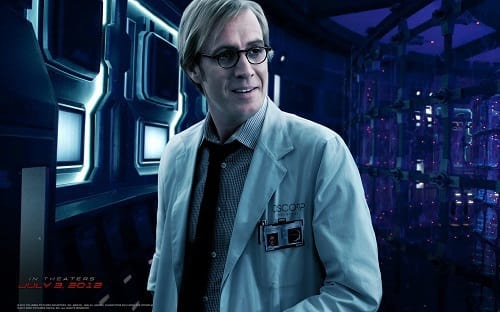 Webb also stressed that the world needs to know that
The Amazing Spider-Man
truly has nothing to do with the first trilogy. "It's really important for us to be able to communicate that this isn't a remake of Sam Raimi's movie. There's a new territory. There's a new villain," Webb said (as we see in the new still above of Rhys Ifans). "It's a different Peter Parker,"
One thing that Spider-Man fans can attest to that never quite made it into the Raimi films was Peter Parker's wicked sense of humor. That, Webb promised, is front and center in his movie. "There's this trickster quality we were very keen on exploring, with that humor and that fun and that wisecracking stuff. We wanted to keep that alive, but we wanted it to be realistic," Webb said.
"We wanted that humor to come from a real place.
Andrew Garfield
was really great. He used this term to describe Peter Parker in Spider-Man and Spider-Man in particular: He's a trickster. He was like, 'How would Spider-Man web this guy? He'd give him a wedgie or he'd do some awful graffiti.' There's a punk rock quality to Peter Parker that's really irreverent and fun and that's something that Andrew embodies in a way that we haven't seen before."
Stay with Movie Fanatic today as we head out to check out a Sony Pictures sneak peek of footage from the film. We will bring you our full report the moment it's over!