Big Miracle Exclusive: Dermot Mulroney Talks Larger Than Life Tale
by Joel D Amos at . Comments
Dermot Mulroney is having a rare moment for an actor. Two of his movies will be in theaters at the same time: The Grey and Big Miracle. Mulroney sat down with Movie Fanatic for an exclusive chat about Big Miracle, the touching true story of a group of whales trapped beneath the Alaskan Arctic ice and how the world rallies to set them free.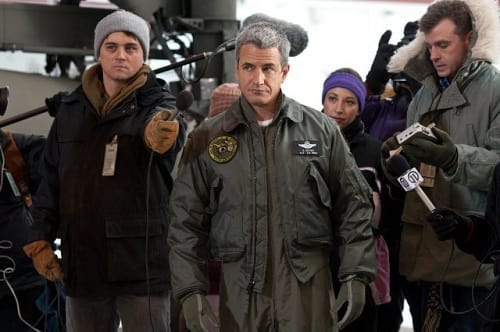 Mulroney stars in
Big Miracle
with
Drew Barrymore and John Krasinski
as a Colonel in the National Guard who is charged with the dangerous task of bringing an ice barge hundreds of miles to where the whales are trapped in an effort to break the ice and allow the whales to swim free. The actor was most struck at the layers of trueness in the true story, especially how his real life character fell in love and married an aide to President Reagan sent to the area to provide support from the White House.
The actor, soon to be seen on
New Girl
(check out
his thoughts on joining Zooey Deschanel
on the hit show), tells us the thrill of being in two movies in theaters, working with his idols including Paul Newman and how lately, he has a penchant for films that take place in Alaska!
Movie Fanatic:
What's it like when you have two movies coming out so close together?
Dermot Mulroney:
In all the years I've been doing it, I don't think I've ever had two in the theaters at the same time [
laughs
]. This is even more peculiar because they're both good. And it's even more peculiar because they're both Northern, mammal movies. So it is a strange coincidence. But heck, I think it's great news -- that way people can get a double shot of me and then go back to their lives.
Movie Fanatic: The character you play has actually passed away but you did talk to his widow. How did those conversations help enlighten you?

Dermot Mulroney: The most striking moment was when I first met her. It was the strangest platonic version of what it must have felt like when she first met Tom Carroll. In other words, there was just this strange connection between us, instantly. For her, obviously it was because she was anticipating meeting the actor who was going to play her late husband. She's an amazing woman. She went on to found an organization (TAPS, Tragedy Assistance Program for Survivors) that honors and is a resource organization for survivors of military families, including non-combat deaths in military families, like hers.

Movie Fanatic: How did you picture this guy without being able to talk to him and get firsthand intel, as they say in the military?

Dermot Mulroney: As I was reading the screenplay, I thought he was kind of a tough guy, military guy and pilot. The story about him stays completely real and there's an intensity to it. I was also drawn to the story in that it's about whales, Native Americans, oil and then suddenly there's this romance across the continent. It's really impacting. The experience of pulling that story off was great.

Movie Fanatic: How was filming in Alaska? The Grey also takes place there.

Dermot Mulroney: We didn't shoot The Grey in Alaska, it takes place there but we shot that in Vancouver and Smithers, British Columbia. If only, that would have been the true trifecta! I also did a movie called Beyond, Jon Voight stars in it, that takes place and was shot in Anchorage right after Big Miracle. So I did three Alaskan movies, so it goes without saying I have very, very warm feelings for a very cold place. Alaska will forever be one of my favorite spots. In Alaska, they don't say you're from the continental United States, they don't say you're from the lower 48, they say you're from the outside. So if you're not from Alaska, you're from the outside. And that's just colloquial, it's not like they're even making a point. That's just how they say it.

Movie Fanatic: Is there someone you can point to in your long career as an inspiration for you?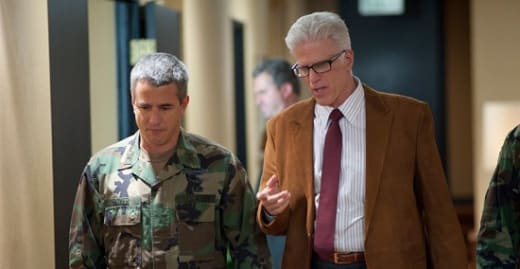 Dermot Mulroney:
I have a lot to choose from that's why it's a tough question. Two people come to mind, one's Paul Newman, the other's Robert Altman, partly because they've both died since. I like old guys, I always have. I've always gotten along with men of that generation. But I got to be real, genuine friends with both of them too which doesn't always happen on films. You'll be great friends while making the movie, then everyone kind of goes their separate ways. But Bob tucked me under his wing and included me in his family barbeques and other film premieres and asked me to join in music events. Paul was the same way. We made a movie
Where the Money Is
. We remained friends until his death. He was such a dignified man, that's what I learned from him -- be kind to everyone, be on a first name basis, be punctual, prepared and not have a lazy bone in your body.