When Lionsgate merged with Summit Entertainment, everyone in the industry couldn't help but think about the power this new entity now has by possessing the releasing rights to The Hunger Games books as well as the Twilight series. So, it should be no surprise the announcement today that the first trailer for Breaking Dawn Part 2 will appear before The Hunger Games when it premieres March 23.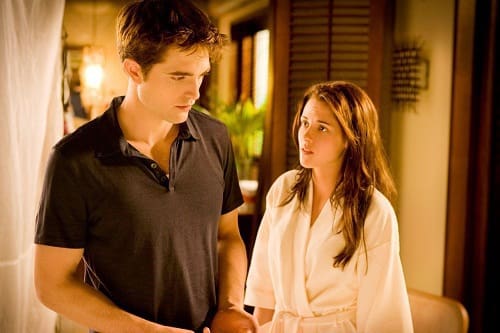 "We're very excited about the opportunities created by our recent acquisition of Summit Entertainment. The February 11 home entertainment release of
Twilight Saga Breaking Dawn 1
, the March 23 theatrical release of
Hunger Games
and the November 16 theatrical release of
Twilight Saga Breaking Dawn 2
lead a strong combined slate that we believe will enable us to deliver increased consistency, profitability and value to our shareholders," said Lionsgate Chief Executive Officer Jon Feltheimer.
In a move that most
Twilight
fans heralded in our
poll
, Lionsgate has also announced that it would like author Stephenie Meyer to pen another book in her vampire series. It looks like we're not done with the Edward and Bella saga after
Breaking Dawn Part 2's
November 16 arrival. 
And don't miss your chance to win tickets to The Hunger Games' Los Angeles premiere!