Bridesmaids has achieved so much since it debuted back in May 2011. Most impressive is the Oscar love given to Melissa McCarthy as a nominee for Best Supporting Actress. Then there's all the how do you not make a sequel to an enormously successful film talk. Adding fuel to that fire is the news that Bridesmaids is now the most popular video on demand film of all time.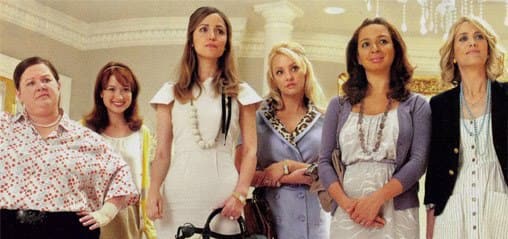 In the last four months since its VOD debut, the film has had 4.8 million rentals, totaling $24 million in sales. For Universal, that must be a hard figure to ignore as they wrestle with co-creator
Kristen Wiig to get a sequel made
.
Add in the fact that with digital downloads, hotel rentals and pay-per-view cable, the comedy has amassed over $40 million from purchases that were not on Blu-Ray or DVD. Universal released figures for the film that show it has banked over $100 million in sales for those traditional home video formats. With the
$169 million it earned in the theaters
, that's an enormous amount of profit for a comedy, or any movie for that matter. Again, no wonder Universal is dying to get a sequel made.