When Hollywood recently began delving into second tier superheroes from the comic book world, Movie Fanatic wondered why someone didn't simply create new ones that were born on screen. No need for a graphic novel or the like, simply give us an origins story that is as explosive as that Dark Knight guy. Chronicle is that film and writer-director Josh Trank should be exalted for his wildly inventive story and explosive new movie.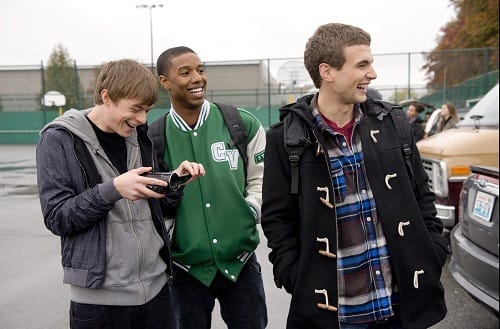 Alex Russell, Michael B. Jordan and Dane DeHaan
play Seattle teens that while out one Friday night at a party, make an astounding discovery. They stumble on a deep hole in the ground where deep inside a faint noise is emitted. Being curious kids, they go in it to discover what exactly their find is. They awake the next day, completely unaware what happened after entering the hole.
The power of the story is only enhanced by Trank's use of the found footage style of storytelling. DeHaan's Andrew has bought a video camera to
Chronicle
the abuse he is enduring at home at the hands of his father and documenting his sick mother's final weeks. As the high school trio discovers they now have superpowers, it is used for a much more joyous task of capturing their supernatural talents. The film nails it in the sense that today's teens would be less likely to sew a Spidey suit and save the world as much as they would use their recently discovered powers for pranks and the like.
Chronicle
is the most original of origin stories. It follows the superhero playbook, but adds its own twists around every corner. It is unlike any film you have ever seen and it is still haunting us to this day. The movie illustrates the classic line that with great power comes great responsibility. Andrew is deeply troubled and his being accepted with the popular kids, because of his new bond with Jordan's Steve and Russell's Matt, is short lived. When the evil that is jealousy enters the picture, Andrew begins his descent into madness.
Thus is established the classic lexicon of the superhero playbook. The hero, oftentimes, only embraces his role when he has to stop another with equal power from extolling harm. Two of these three characters are on a collision course that will play out with harrowing results across the skyline of Seattle.
What also aids in Chronicle's originality, when it comes to its place in the superhero movie genre, is its point of view. As the film progresses, Andrew is able to use his powers to have the camera follow him and his friends without needing to actually hold it. At that point the film becomes a found footage film that fully embraces the concept as no other film has in recent memory. The audience, who by this point is more than invested in the film, is treated to a voyeuristic view of a story that teeters on complete chaos.

It is harrowing, haunting and when we look back on Chronicle in the future, it will stand as the birth of a gifted filmmaker in Trank as Jaws was seen as the birth of the great Steven Spielberg.