Chronicle, the unique found-footage, superhero origins story, shocked the world by topping this past weekend's box office. The film follows three teens who awake one day to discover they have telekinesis. The newly discovered superpowers will at first be a source of great prank-driven fun for the three teens. Then, when Andrew Detmer (Dane DeHaan) begins to use the powers for his own needs, things get ugly.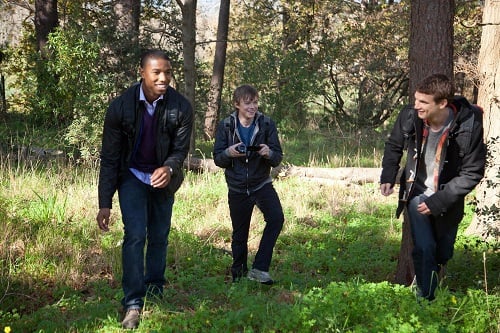 His two friends, Michael B. Jordan's Steve Montgomery and Alex Russell's Matt Garetty have to do their best to contain their friend's wicked ways. The film is chock full of excitement and is at its best with a slew of great
Chronicle quotes
.
Steve Montgomery:
Yes, it was the black guy this time... |
permalink
Andrew Detmer:
Hey Matt, what did Jung say about glow sticks? |
permalink
Steve Montgomery:
Telekinesis: The ability to move, lift, vibrate, spin, bend, break or impact objects through the direct influence of mental power or other non-physical means.
Andrew Detmer:
Sound familiar?
Matt Garetty:
Does sound familiar. You want to see direct influence? |
permalink
Matt Garetty:
Listen to me: We can't screw around with this -- it's too dangerous! Andrew, it's not a game! |
permalink
Andrew Detmer:
There's nothing stopping us. |
permalink
Matt Garetty:
It's like a muscle... we're getting stronger. |
permalink
Andrew Detmer:
I'm stronger than both of you! |
permalink
Matt Garetty:
Was it an accident Andrew? Andrew?! |
permalink
Andrew Detmer:
I am an Apex Predator. Does the lion feel bad killing the gazelle? Do people feel remorse when they kill a fly? |
permalink