Danny DeVito did not have to think too hard as to whether he would step into the title role of The Lorax. The animated film is the latest Dr. Seuss page-to-screen adaptation and follows how Ed Helms' Once-ler creates a product called Thneeds. They become wildly popular, which is fantastic for him, but to make them, he must cut down all the trees that inhabit Seuss' spectacularly sensational world.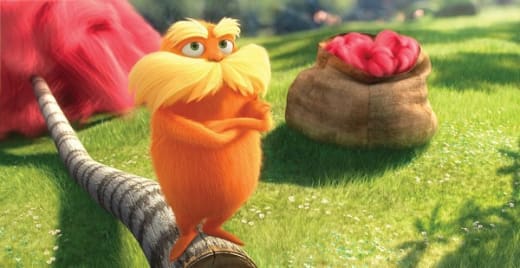 The themes of the Dr. Seuss book have always resonated through DeVito's own environmentally sensitive life. "
The Lorax
gives that message and it offered that message to folks. It wasn't like beating them over the head. It was a really nice presentation. I found that to be really well-done, well-mounted, well-exhibited," DeVito said.
The actor sites Helms' character when extolling the virtues of
The Lorax's
message.
"The only thing the Once-ler did wrong besides got greedy with the Thneeds is that he didn't provide for the Earth in any other ways," DeVito said. Enter Zac Efron's character, who comes to visit Once-ler trying to find a tree... any tree! DeVito feels that Once-ler is redeemed because he saved one last seed that could give birth to bringing it all back. "That's a message that we can take away. It's not saying we can't be inventive and still think of things to sell or make or manufacture, but the idea is if we're going to take the goods from the Earth, the supplies, the materials from anywhere, we should think about the sustainability, the replenishing of it."
DeVito's the Lorax is a colorful character with his all orange body and thick yellow mustache. Something DeVito found quite the challenge was to find the best voice, not to mention the multiplicity of languages he had to record. "I just saw the movie -- it's so fantastic. I was so excited to see it… in English," DeVito said and laughed. "I have been looking at it in Spanish, Italian, German and Russian. I dubbed my voice in all those languages. This is the thing. I don't speak any of those languages! I speak a tiny bit of Italian. But I did it all with coaches and phonetically."
That's how devoted DeVito was to
The Lorax
and his craft. "It was a lot of work," DeVito added. "It was something that you cop to and say you're going to do it, but the water's really cold when you get in. You go, 'Oh my God, the mountain's high.' You're at the plateau and you say, 'Okay, we can rest here.' And then you look up and there's the tip of the mountain and you go, 'Okay, we did German. We did Italian... and there's Russian.'"
The key was to record his voice one linguistic segment at a time. "Universal brought in people from the country," DeVito said. "So I had two Italians with me, one on either side, who spoke both English and Italian. Then I had a technician who was in the back working because sometimes the lines were very long."
Now that the current star of It's Always Sunny in Philadelphia has done his take on The Lorax in four different dialects, what did he make of the film upon viewing it? "The first thing that knocked me out was how rich and beautiful it looked when they were going down the streets and seeing the trees. The characters were so true to the people that played the parts," DeVito said. The impressive cast that came together further pushed the envelope of creativity. "With Taylor (Swift), Zac (Efron), Betty (White) and Ed (Helms), everything was falling into place."

The actor appreciated another aspect of appearing in The Lorax, the immortality that an animated film provides. "I felt very happy because I set out to speak to not only the kids in the audience and their parents, but also my fans who know me from other kinds of movies or TV shows like It's Always Sunny in Philadelphia," DeVito said. "I wanted them to think, 'This is like Frank Reynolds doing The Lorax.' I felt we captured that kind of thing really well. I think people all over the world are going to like it."