Jennifer Westfeldt wrote, directed and stars in Friends with Kids (check out the trailer) and her cast is anchored by four Bridesmaids veterans. The film's new poster showcases her stellar cast that includes Maya Rudolph, Kristen Wiig, Jon Hamm (Westfeldt's real life boyfriend) and Chris O'Dowd. Those Bridesmaids stars are joined by Megan Fox, plus Parks and Rec's Adam Scott.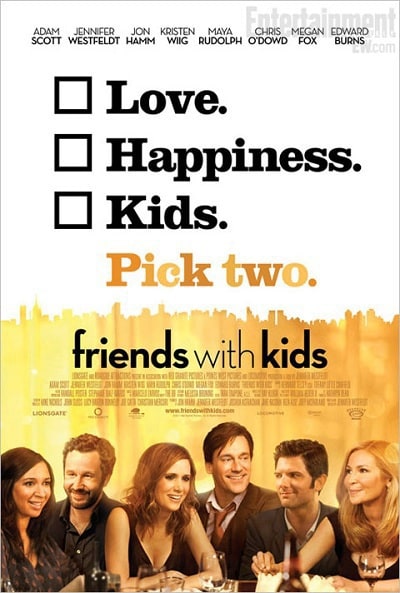 The film, to be released March 9, explores the comic complexity that is what happens to a group of friends when children enter the picture.
Hamm and Wiig play newlyweds who cannot keep their hands off of each other. O'Dowd and Rudolph are a set of parents who have to manage their social life with children, and Westfeldt and Scott are best buds who decide to become parents without getting into a relationship. How this all plays out will certainly be funny, touching and clever in the hands of Westfeldt and her cast.