It is a debate that has raged since Star Wars premiered back in 1977 and George Lucas has commented to supposedly set the record straight. As his Star Wars Episode One: The Phantom Menace hits theaters in 3D, Lucas addressed the controversy that has centered on the collective belief that Han Solo shot the dreaded Greedo first. Fans believe that only adds to the bad-ass nature of the character, but Lucas is here to completely disagree.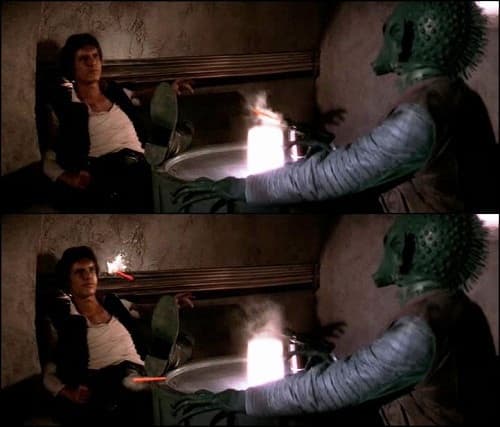 "The controversy over who shot first, Greedo or Han Solo, in
Episode IV
, what I did was try to clean up the confusion, but obviously it upset people because they wanted Solo to be a cold-blooded killer, but he actually isn't," Lucas said. The director went back through the scene in an effort to clear up the confusion. "It had been done in all close-ups and it was confusing about who did what to whom. I put a little wider shot in there that made it clear that Greedo is the one who shot first, but everyone wanted to think that Han shot first, because they wanted to think that he actually just gunned him down."
So… what do you think?
Did Han Solo shoot Greedo first?