Ghost Rider Spirit of Vengeance Exclusive: Directors Dish Cage and Ciaran
by Joel D Amos at . Comments
Ghost Rider: Spirit of Vengeance directors Mark Neveldine and Brian Taylor sit down with Movie Fanatic for an exclusive chat about their action-packed sequel starring Nicolas Cage. The directing duo is known for their action film panache with their previous work on Crank, Crank: High Voltage, Gamer and Jonah Hex. The thing that most struck us about these two: Their wicked sense of humor that never stops.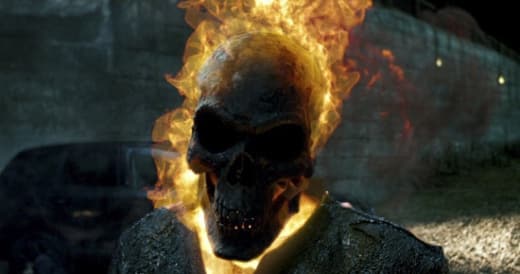 Neveldine and Taylor think that the key to why the character of Johnny Blaze and his alter ego Ghost Rider has been so resonate to fans for so long is that he is one of us. "It's a guy in Johnny Blaze, who has some inner demons. And as the Ghost Rider, he's someone who can suck out souls and punish the wicked," Neveldine said. "I think we all have something in us that wants to punish the wicked."
That human element to the superhuman is the key. "The thing that brought me and Mark to it, and I think Nic as well, and why we bond with this story so much, is it's almost autobiographical," Taylor said. "We all have demons, and he just happens to have a literal demon." 
"I had one exorcised in 1982, so it's no longer with me," Neveldine added with his classic deadpan humor. "I have VHS evidence of that."
When the directing duo first tackled the project, they found a partner in crime in Cage that was much more than simply a performer. "We love the crazy, fun Nic, that sort of performance is great for a guy who is dealing with his demons," Taylor said. They sought to take the
Ghost Rider
series into a darker, grittier realm. "We also really wanted it to feel like a horror film and have it feel more frightening. Nic bought it all and loved it. He came at us with guns blazing, ready to go and brought new stuff to us every day."
Their star also brought out the best in the directors, something they will take with them into their next projects. "You learn that you can always be a better filmmaker. When you got a guy like Nic, so passionate and comes to the set every day with that passion and love of that character and filmmaking and really takes his job seriously, the most professional actor on set every day, it just raises your game," Taylor said.
Neveldine and Taylor shot
Ghost Rider: Spirit of Vengeance
in the frozen tundra of Eastern Europe, a challenge to say the least. "It was an effort to shoot in Romania and Turkey with only one of our regular crew members. The rest, we had to deal with language barriers and 20-degree weather -- it was crazy. That challenge made us survivors. We learned that we could pull it off in the most unusual of locations and under the worst conditions."
When they were looking to cast the devil in their film, they found a UK actor who has been lighting up the screen of late in
Tinker, Tailor, Soldier, Spy
and
The Debt
-- Ciaran Hinds. "Ciaran's great. The devil's never really going to show up with horns and a red tail. It's going to be the last guy you expect. I think he had fun playing against expectations and Carrot Top was not available," Neveldine said and laughed.
"A guy like Ciaran Hinds makes it really easy for you as a director," Taylor added. "He can turn the worst dialogue into Shakespeare and he's not afraid to play."
There is not a ton of directing duos in film. Most work solo, but the tandem of Neveldine and Taylor is proving prophetic for the pair. "It's great because when you're on a film set, you run out of ideas fast," Neveldine said. "If I run out of ideas, which happens often, Brian takes over and he has those great ideas. There's a fun back and forth."
Taylor compares their working relationship to a certain professional "sport."
"Our directing style is like WWE, one guy will direct for a while and we'll do a little ass slap and the other guy will jump in the ring," he said. 
With the center of so many of their films on action, we were curious who their influences were and how that became the filmmakers we see producing the action orgy of movies like
Ghost Rider: Spirit of Vengeance
. "
Spielberg
, Raimi... there's so many," Neveldine said. 
Taylor compares their influences to a tasty beverage. "We're kind of cinematic blenders. We throw a million things in and blend it up and get a nice smoothie, or a milkshake is what ends up on screen," he said. 
"It's a smoothie for me," Neveldine added.

When asked, after working with Jason Statham and Cage, who they would love to bring into the action genre next, the pair responds with their usual wit. "Corey Feldman, he is the man," Neveldine said.

"This young guy called Clint Eastwood is just amazing," Taylor added.

What's next for the duo is hard to say, given when we ask, their answer came shrouded in their trademark deadpan. "We just got word this morning from our agents that George Lucas wants to hand over the entire Star Wars saga over to us. We're not surprised, but it is a pretty big undertaking. We'll do another set of three prequels to the prequels," Neveldine said. 

"It's going to be all about Princess Leia going through puberty," Taylor added. "It takes place in Cleveland."