Amanda Seyfried has been running for her life in the most intense of Gone trailers. After experiencing the young actress' film, it's easy to see why her character could not sit still and relax without continually looking over her shoulder. Seyfried stars as Jill. She claims to have been the only woman to have survived a serial killer. Only thing is police can't find any proof that her story is real. Throughout the film, flashbacks are doled out with the right amount of tease to illustrate that Jill is not lying. Or is she?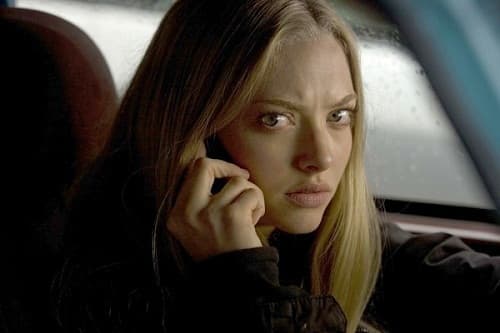 Safely taking her meds and working at a local diner, Jill is putting her life back together. One morning she comes home from work and discovers her sister
Gone
from the house. Through Seyfried's powerful eyes, we see that something is extremely not right. In fact, the scene is awfully familiar to the one her character describes having experienced. Upon involving the police, she realizes how alone she is in the search for her sister.
It's a race-against-the-clock thriller. Jill knows how long the kidnapper keeps a subject alive before taking their life, and as such, the "time's up moment" is constantly hanging over the film like a black cloud. 
Gone
is Seyfried's movie. The actress has truly come into her own. The promise seen in
Mean Girls
and
Mamma Mia
has come to full fruition. Heck, we even thought the actress was the best thing about
In Time
! And in
Gone
, she doles out just enough of an emotional roller coaster ride that it keeps the audience guessing as to how this story will play out.
Movie Fanatic also salutes the production as they made Portland, Oregon and its vast natural resources a character in the film. When producers could have easily filmed it in Vancouver and saved some coin, for authenticity and the continued success of the U.S. film market, Gone's goodness also lies in its locale. It pays off within the story. As Seyfried is racing through the dense forest convinced she is moments away from finding her sister, by that point in the story, we know that our journey has been in the American Pacific Northwest, a site with a storied history of people vanishing… and sometimes turning up.

At times, the film can come across as a stretch. Most thrillers can suffer under the weight of their premise. With Seyfried in control of her emotional power and demons as Jill, getting Gone with the actress is a solid two hours spent.