Lionsgate has done a masterful job of promoting the countdown until The Hunger Games premiere. Movie Fanatic participated in the 100-day countdown poster, then gave away tickets to the Los Angeles premiere with the 50-day countdown. And now, since there are only 24 days until Suzanne Collins' story hits the big screen, the studio announced there will be 24 select advance screenings before the film's official premiere of March 23.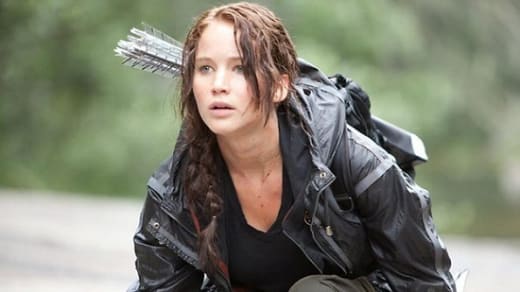 Here's the news from Lionsgate with all the details on how to get into the most anticipated movie of 2012 early:
In celebration of another milestone in the countdown to the release of The Hunger Games with under 24 days until the film's release mirroring the 24 tributes in the story, Lionsgate has announced 24 Advance Screenings brought to you by Nook by Barnes & Noble.   
 
Fans can show their support for #HungerGames24 by visiting this site and tweeting a unique hashtag assigned to their closest city to unlock advance screening locations. Starting tomorrow, March 1, the top four cities with the most Twitter volume will be announced each day and fans will then be able to enter to win tickets to those locations.
 
In addition, Barnes & Noble is giving Nook fans in select cities the opportunity to gain exclusive access to see The Hunger Games before its official theatrical release. On March 10, while supplies last, the first customers to purchase any of Barnes & Noble's award-winning Nook devices -- including Nook Tablet, Nook Color or Nook Simple Touch -- at select Barnes & Noble stores will receive two complimentary tickets to the official advance screening on March 21.
 
In the story, Tributes are sponsored based on their first impression at the opening ceremonies, training scores, impressions made in the interviews, performance in the arena, as well as a number of other factors. Donations from sponsors range from medicines to food to weapons and more. Because of this, Lionsgate brought on 12 District Sponsors to each host two of these advance screenings and offer 24 fans the chance to win a pair of tickets. 
 
The digital campaign follows those for #HungerGames100, #HungerGames74, and #HungerGames50 which marked milestones in the campaign with similar interactive fan activities.
Be sure to register for a District here and learn more about how to impress your sponsors on Facebook.

Fans who don't have an advance screening near them may be able to meet and greet the cast at their local mall during the National Mall Tour beginning in March. Visit the film's Facebook events tab for more information.