Willem Dafoe has seen and done much in his esteemed career. So, you can imagine his thrill with the prospect of tackling something completely new for John Carter. Dafoe plays Tars Tarkas (that's him in the photo below... next to star Taylor Kitsch!), a member of the alien species called Tharks. It is Tars who first meets Carter, soon after he mysteriously arrives on Mars. One of the requirements of Dafoe was to don a motion capture suit and walk on stilts to mimic his creature's height. "Things are altered for you," Dafoe said in our exclusive interview of the change in his acting process. "You've got a limitation put on you and then you try to turn it into a good thing."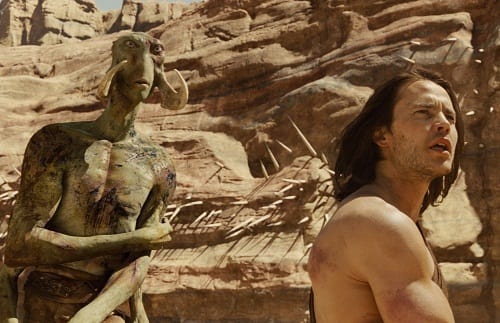 Dafoe hadn't read the book by Edgar Rice Burroughs, but did pick it up after getting cast. The actor admitted that although helpful, the source material only enhances the performance. The core of the characterization must come from the screenwriter's vision. "In this case, I read the script first, then I read the book to kind of fill in certain things that weren't in the script and give me a context -- know where this stuff came from," Dafoe said. "I wanted to know why Andrew (Stanton, director) was so crazy about this story [
laughs
]. Once you get into it, I didn't so much return to the book and I think that's my general tendency. You're dealing with what you have on you. It's sort of not my job to honor the source material. It's more the director's concern."
Bringing the
John Carter
story to the big screen is a process that has been in the works since the 1930s. "People had wanted to make this for years," Dafoe said.
The book first arrived almost 100 years ago and for Dafoe the appeal was firmly in something he is always attracted to in a story. "I'm a real sucker for the reluctant hero and the guy has been hurt in life or something bad has happened to him and he can't extend himself anymore. Life is tough and he's going to ride it out by himself and not get hurt again. And then he starts to feel again and he risks again," Dafoe said. "That's always a great story. It's great in love. It's great in all human interaction."
Dafoe got to work with star Taylor Kitsch, who plays John Carter, more than anyone on the set. The film has people buzzing that the former
Friday Night Lights
star may be Hollywood's next big thing. "I liked him a lot. I like how he works," Dafoe said. "He had a beautiful relationship with director Andrew Stanton. Most impressive of all was his physical ability and his commitment to that. He was really good with the physical stuff. I've been around all these actors that were required to do all this stuff, but it's not just about having the balls to do them, it's also about doing them with a certain amount of grace and still maintaining the character and maintaining who you are in the story. I think he did it great. And he's got a straightforward American charm about him. He's a good guy."
Next up for Dafoe is the movie The Hunter. Movie Fanatic was truly taken with this film and the actor let us in on a little exclusive scoop about his work that will arrive after John Carter in theaters. "We shot in Tasmania. It's an interesting story. This is also a story about a guy who is cut off and comes to feeling. Beautiful landscapes, a beautiful story, with a magical element to it because you've got this Tasmanian tiger, this thing that some people still believe exists -- an extinct animal that this man is searching for, hired by a biotech company to take its DNA," Dafoe reported.

"It's above all a character study. It also taps into what's great about cinema where you have these fantastic landscapes. It's an opportunity to have a very physical role, also a role where I had to learn something. Basically, I'm an urban guy and I had to get good at bush craft, knowing how to set snares and those sorts of things," Dafoe said and laughed. "That's always a pleasure. The story is very original, very specific."

Stay with Movie Fanatic as we premiere our John Carter exclusive video interviews with the cast, including Dafoe, all next week.