Journey 2: The Mysterious Island is a sweeping adventure that takes audiences to a crossroads of the worlds of Jules Verne's The Mysterious Island and 20,000 Leagues Under the Sea, Robert Louis Stevenson's Robinson Crusoe and Jonathan Swift's Gulliver's Travels. It opens with Josh Hutcherson's character Sean from Journey to the Center of the Earth on an obsessive path to solve the riddle that is a message he received from someone whom he believes is his lost adventurer grandfather.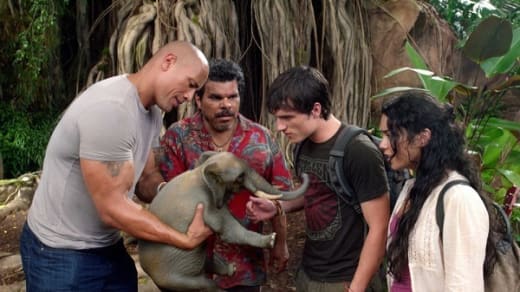 Dwayne Johnson is his stepfather Hank and the two have a tenuous relationship to say the least. As Johnson shows his prowess with code solving from his military days, that frost between the two is melted and they are off on a quest to the titular paradise. They meet Luis Guzman and his daughter Vanessa Hudgens on a South Pacific island and enlist their helicopter services to find the elusive emerging from the sea. We won't ruin how they arrive, but once they discover the Mysterious Island, their adventure is merely commencing.
Director Brad Peyton has a field day with his 3D camera once we arrive on the locale where elephants are tiny and insects are giants. It never feels gimmicky except in one part of the picture where Johnson is advising Hutcherson on how to impress women. It's also the weakest part of the movie as most women would tell you bouncing pecs are not the most attractive thing in the world. But in the vast scope of
Journey 2
, that misstep can be ignored.
Moments after arriving on the island, trouble strikes. The quartet are walking on rocks that they soon discover are lizard eggs and mama is not happy. That race leads to them meeting up with Sean's missing grandfather (Michael Caine).
By weaving together the legends set forth in four classic books, the palette for the film's storytellers to cull from is large. Yet, the film is mired in lack of focus at times that keeps the adventure a little grounded when it should soar.

The one thing that is so striking about Journey 2 is the screen presence of Hutcherson. For those who may have questioned his casting as Peeta in The Hunger Games (win tickets to the premiere!), you can relax. The actor handles the tightrope of action and emotion effectively. Although Johnson may be the big star, and Caine's presence adds a legend factor, this is Hutcherson's film. He has grown, physically and emotively, since he first appeared in the original 2008 film.