In Wanderlust, Malin Akerman and Justin Theroux star as a couple of commune residents at a place called Elysium. The pair are joined by Jennifer Aniston and Paul Rudd in the new comedy from director David Wain (Role Models). The hilarious new film shows what happens when Aniston and Rudd's married couple decide to break from their rigid New York City lifestyle and escape to the country. They wind up at Elysium and, yes, hilarity does ensue… big-time!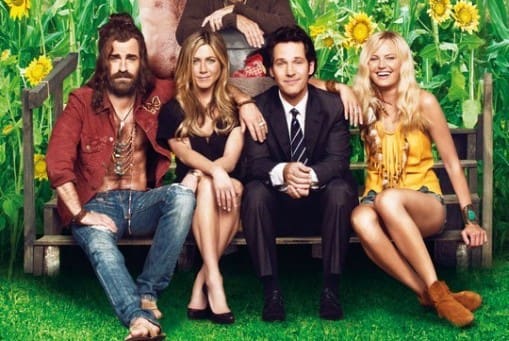 Theroux and Akerman sat down recently to discuss the finer points of their new comedy. The Wain set was notable for how the cast bonded, hardly a surprise given the long hours they spent each day getting each shot perfect. "Yes, they were long days. But it's long days with some of the best comedic players around. It's like being in an all-star game," Theroux said. "You don't want to go home at the end of the day. You kind of get excited when it goes to the next person's close-up. It's like, 'What's Kathryn Hahn going to do? This is going to be really funny.'"
"There wasn't a dull moment," Akerman added.
The actors said that in the case of filming
Wanderlust
, art started to imitate life. "We literally became the commune we were making fun of," Theroux said. "It helped with chemistry overall because we were all excited to be hanging out together. There's such familiarity and friendship and I think it helped the cause for this film."
Akerman
noticed a selfless sentiment permeated the set. "We became a 'we.' There was no 'I' in anything," she said.
For his part, Theroux had to grow a long beard, an uncomfortable sacrifice he made for his art. Throughout the tough shoot, it appears the actor truly gained an affinity for his character Seth. "He's so wise," he said and laughed. "One of the things I liked that he said was, 'I live where I am.' That's actually a pretty good line. But he's not good at following his own advice."
Some of the film's most hilarious moments come from Theroux as his character had the penchant to say the most ridiculous of statements. "I think that's how he got some of the commune members under his spell was to have these things that seem to make a lot of sense," he said. "But then they actually don't really make any sense."
Malin welcomed the opportunity to work with director Wain again, after her blissful experience on the TV show
Children's Hospital
. "He is so collaborative, not narcissistic or egotistical. He really just wants it to be the best it can be," Akerman said. "We would always do the scripted lines because they're hilarious. And then they went, 'Go and do your thing. Do some improv. See where you come from and who you think Eva is and what she would say in this situation.' He was really liberal with letting us bring what we thought was good for the characters."
Theroux concurred with finding joy in Wain's process. "He has no ego. If it's funny, they'll stick with it. There's a whole other movie that could be cut out of the alternate, ridiculous lines," he said.
"There's probably another movie of us all just laughing for like three or four hours, just wasting so much time," Akerman added and laughed.
If there was a contest to see who broke character first as actors could not help but laugh, it sounds like it would be a tight race. "I'm definitely up on that list, for sure," Akerman said.

"That's some stiff competition," Theroux added. "Paul (Rudd) was the one who actually could keep it together. That's probably why he's such a pro. He could keep it together better than anyone."

When it comes to how long each would last in a real-life commune, their answers mirror those of Aniston and Rudd's from our Wanderlust interview. "About an afternoon," Theroux said. "As soon as I saw the naked guy in the driveway, I'd say, 'I could drive another two hours.'"

Akerman admitted she'd stay a bit longer. "A day," she said and laughed. "It would be over for me as soon as I went to the bathroom… with no doors. I'd be done."