Meryl Streep finally did it. The best actress of our time won her third Oscar after a 29-year drought. Her thrill with the victory for her work on The Iron Lady was as present onstage at the Kodak Theatre as it was backstage when she met with the press. And Movie Fanatic has your inside scoop as to Streep's emotions and her thoughts about finally winning that elusive Oscar.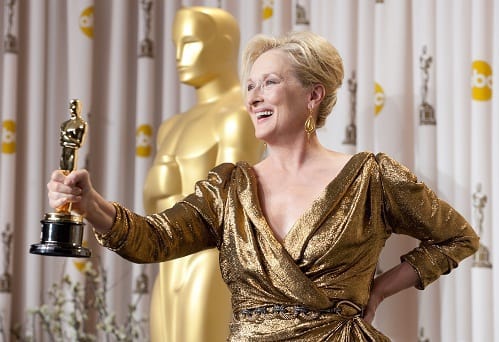 "I thought I was so old and jaded, but they call your name, and you just go into sort of, I don't know, a white light. And it was just thrilling," Streep said backstage after winning her award. "It was like I was a kid again. I was a kid when I won this, like, 30 years ago. Two of the nominees were not even conceived [
laughs
]."
Streep managed to capture the British icon without ever meeting her. But the
Oscar winner
reported going over every piece of news reel she could find in order to craft her winning performance. "I studied her, and there's so much archival footage. And then the challenge was to imagine her present life, and that was completely an active imagination on Abi Morgan, the writer's part, and my part," Streep said. The actress admitted that she felt what resonated most about her performance was that, by the time the credits roll on
The Iron Lady
, the portrait is more of a mirror. "There was a lot of freedom in that, but also responsibility to a real person and to history. It was very satisfying as an actor, as an artist, to make a film that starts out about Margaret Thatcher and ends up being really about all of us."
Streep was reflective on Oscar day, telling the gathered press that she found a poem hours before her victory that seemed to sum up her feelings. "I read a poem and it had nothing to do with this but it said, 'It is as strange to be here once as it is to return.' So, that's true. It is strange, the whole thing is strange," Streep said and smiled.
After 17 nominations and only two wins, did Streep really think she would never return to holding Oscar gold? "Frankly, I understand Streep fatigue. And it shocks me; it shocked me that it didn't override this tonight. So, I was really, really happy but I don't take anything for granted, that's for sure."
Before the grand dame of the Oscars exited the press room, she had some advice for younger performers who look to her for inspiration. "Never give up. Many girls around the world live in circumstances that are unimaginably difficult. Show business is a golf game compared to the way most kids grow up in the world," Streep said. "I would say, never give up."