The Tree of Life has divided audiences and critics since its debut. Brad Pitt stars as an abusive father married to Jessica Chastain, raising a son who will grow up to be Sean Penn in the film. Our daily Oscar Watch look at the movies and nominees today turns our spotlight on Terrence Malick's existential film that is one part family story, another part origins-of-man story and all classic Malick. The director is known for his unique take on subjects that sometimes connect with audiences and other times fail.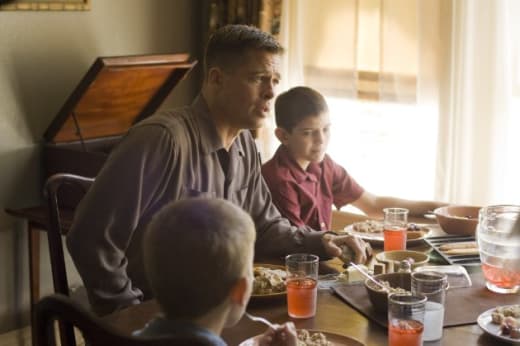 The nomination for Best Picture for
The Tree of Life
was welcomed by a large group in Hollywood who appreciated the filmmaker's efforts in telling a tale in a manner that we have not seen for some time. Pitt, who is also producer, has stated on more than one occasion that the work is among his best. Yet, Penn famously was quoted as saying, "I have no idea what it's about."
A divisive film that is recognized for its effort is unlikely to be anywhere near a favorite to take home the Best Picture Oscar.
The Tree of Life
is no different. The Academy certainly awarded an astounding filmmaker for his esteemed vision in the mode of, "Let's reward those who are pushing films' envelope."
The film is certainly one audiences should witness before the big night February 26, so you can join in the conversation. That is at the least what Malick has achieved. It has been a long time since a film has so split critics and audiences alike, yet it does have people talking.