The Best Director category at this year's Academy Awards is an interesting group to try to discern who will win. Given Oscar's history of giving the award to the director whose film eventually wins Best Picture, you'd be safe to predict Michel Hazanavicius for The Artist. But, you cannot count out two legends in Woody Allen and Martin Scorsese, and a third -- Alexander Payne -- who did an incredible job bringing out George Clooney's career-best performance in The Descendants.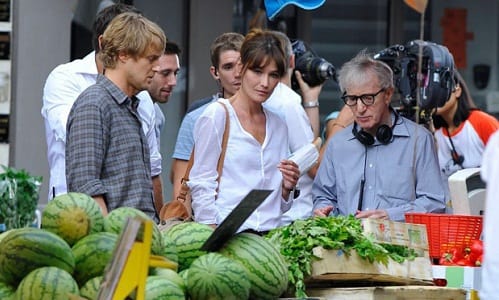 Today
Oscar Watch
begins with looking at Hazanavicius, who did win the top Director's Guild honor, the Golden Globes trophy for Best Director, Musical or Comedy and is widely seen as the front-runner. In our opinion, his biggest competition comes from Scorsese. The
Hugo
director won the Golden Globe Award for Best Director, Drama and after years of shunning the helmer, with his award for
The Departed
, the Academy has learned to love Martin. What makes this so hard to call is you could say, "Give it to Scorsese; he made a love letter movie about the movies." Well, so did Hazanavicius! Let's rule out the others first.
Allen arguably achieved the greatest hit of his career with
Midnight in Paris
. It could easily be his Best Director award to lose in any other year. Unfortunately, we do not believe that it will be Allen grasping the trophy on February 26 as the case for Hazanavicius and Scorsese is too strong.
Payne is enjoying his second nomination after his first for
Sideways
.
The Descendants
director achieved greatness with his film, but given the fact this brilliant helmer is just getting going, Oscar may believe that his award is to come in the future.
Then there's Terrence Malick. His
The Tree of Life
split audiences and, one could assume, also the Academy. His nomination is certainly more seen as a salute to his pushing the cinematic envelope rather than one that is expected to result in a Best Director Oscar.
So, that leaves us with Scorsese vs. Hazanavicius. At this point, it is too close to call. But, we are going to go with our old standby.
The Artist
will win Best Picture and, therefore, Hazanavicius will win Best Director.