Hugo would appear to be, in any other given year, the favorite to sweep this year's Academy Awards. The Martin Scorsese-directed film leads all films with 11 nominations, including Best Picture. In our daily look inside the biggest night in movies, today Oscar Watch goes inside the magic of Hugo.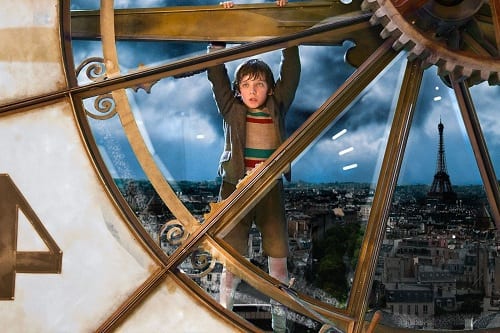 Scorsese's first foray in 3D filmmaking is a complete and utter triumph. As we stated in our
Hugo
review, "It is Martin Scorsese's latest and greatest." The Academy clearly agreed, as it was showered with major nomination adulation.
Hugo
is the type of film that Oscar voters are pre-programmed to adore and rightfully so. It is a movie that celebrates the art of filmmaking, specifically when the medium was in its infancy.
Inside a Paris train station in the early 1930s, the orphaned Hugo lives inside a clock tower and thanklessly takes care of all the facility's time-keeping devices. He is kept company by a "robot" that his father rescued, that somehow holds the key to a vast mystery. That mystery may also involve a man, the expertly cast Ben Kingsley, who works in the train station as a shopkeeper.
Not only is
Hugo
one of the best uses of 3D technology that we've ever seen, it also never loses itself in the format by sacrificing story. The tale is a powerful one and not one that will be easily, or ever, forgotten.
When we spoke to one of the film's stars,
Sacha Baron Cohen
, he described the experience of working on the film as a career highlight. "Scorsese is an artist, a true artist and he makes the movie that he wants to see," Cohen said. "Part of his power and part of the reason why his films are that successful and that enduring is the fact that he's ready to collaborate fully with all his actors."
If Hugo is one of those Oscar-nominated films that has escaped your eyes, run, don't walk to the cinema to see its majesty on the big screen. It is a spectacle that is worthy of some serious Oscar love. Of all the films nominated, this one is our "should win," although we still think The Artist actually will win.