The buzz truly began for The Artist when it made a splash at Cannes in May. People began to take notice and wonder, "What is this silent, black-and-white film that everyone's raving about?" Then it arrived on American shores in November and we saw what all the love being heaped on the film was about.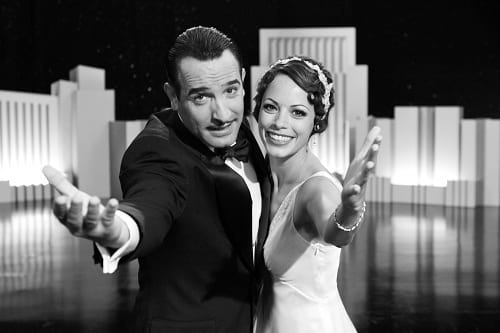 George Valentin is a silent film star who has hit the tail end of the crescendo of his career, although he doesn't know it. Peppy Miller is the upstart actress who lands small roles in the final few silent films before becoming Hollywood's first talking movie superstar.
Jean Dujardin plays George while Berenice Bejo is Peppy. Dujardin scored an Oscar nod for Best Actor (
who do you think will win?
) and Bejo earned her first nomination for Best Supporting Actress. The two spoke with Movie Fanatic for an exclusive video interview and take us inside their stellar film.
Why The Artist has so many nominations at this year's Oscars -- 10 -- is not hard to believe. The film is powerful, emotional and all without emitting any sound. It is a love story, Hollywood tale and changing times piece that resonates with audiences young and old. It is the type of film that Oscar adores, and that is why we believe it is currently the favorite to win Best Picture.

There are honestly no better salespeople for the film than Dujardin and Bejo's co-stars, James Cromwell and Penelope Ann Miller. The two of them, in our exclusive video interview, explain that this is a film that each has seen a number of times.
The Academy needs to award a film in 2012 that is able to do just that. Twenty years from now, The Artist is the type of film you can still watch again and again, unlike some other recent Oscar winners for Best Picture.

If you haven't taken in The Artist, it is a must-see before Oscar night February 26. Run, don't walk to the local cinema!
And while you're in the Oscar mood, check out our most recent installment of Oscar Watch and our look at Moneyball.