In our continuing series on the Oscar-nominated films, today we hone in on the outsider that could pull a surprise win -- The Descendants. George Clooney is considered the favorite for his category (who do you think should win Best Actor?), but what are the film's chances to take Best Picture?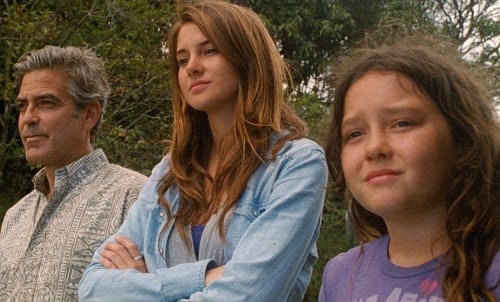 The Descendants
is from director Alexander Payne (who is nominated himself in the directing category), who co-wrote the screenplay (also earning a nod). It tells the story of a father of two young girls and his personal challenges as his recently discovered-to-be-cheating wife lands in a life-threatening coma. The film has heart and humor in droves and is the type of smaller film that the Academy adores. But, will it be enough to win the highest honor of the night? Movie Fanatic believes that it is currently running a very close second behind
The Artist
.
When we spoke exclusively with Shailene Woodley in our video interview (below), the young actress spoke to how the experience of filming
The Descendants
is one she won't soon forget. Woodley, a Golden Globe nominee for Best Supporting Actress, revealed exactly why the film deserves the top prize in her description of the movie.
Clooney's co-stars Judy Greer and Matthew Lillard, who play husband and wife in the film, add their thoughts in our exclusive video interview below on what makes the film such a powerful piece of work, and it has a lot to do with their director Payne.
If you had asked us two months ago who the leader was for Best Picture, Movie Fanatic would have not even flinched: The Descendants. But as the momentum has shifted here in Hollywood, it still looks like The Artist is the film to beat. But, upsets happen all the time and if The Descendants pulls it off, in our opinion, one fine picture was rewarded.