One of 2011's best animated features (and an
Oscar nominee
) has premiered on Blu-Ray and DVD:
Puss in Boots
. The lovable furry kitty from the
Shrek
movies gets his own flick starring Antonio Banderas, Salma Hayek and Zach Galifianakis.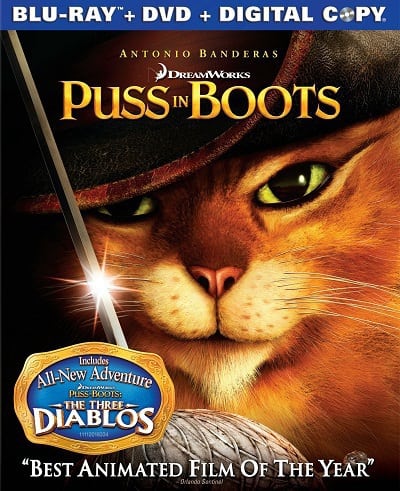 What's not to love about the
Puss in Boots
home video? Absolutely nothing! In fact, there is even a bonus movie included in the package that is sure to thrill.
The Three Diablos
is a new adventure starring Puss along with three of the cutest animated kittens you will ever see on screen.
The
Puss in Boots
DVD/Blu-Ray Combo Pack that Movie Fanatic received for review had us spending hours basking in the fantastic creativity by DreamWorks Animation.
Leading the extras excellence is a feature called
The Animators' Corner
that takes viewers inside the making of the film. Filmmaker interviews feature many noted animators that all came together to create a modern animated masterpiece. The kids will adore the bonus feature called
A DreamWorks Fairytale
that allows them to craft their own custom
Jack and Jill
,
Humpty Dumpty
or
Jack and the Beanstalk
story.
As if all of that wasn't enough, further features showcase the talent behind the film including in-depth interviews with Banderas, Hayek and Galifianakis.