Swedish director Daniel Espinosa was just slightly thrilled about the prospect of his first Hollywood directing gig. Safe House features one of the biggest stars in the world and an actor on his way to that moniker. "All of them, I had admired for years," Espinosa told Movie Fanatic exclusively.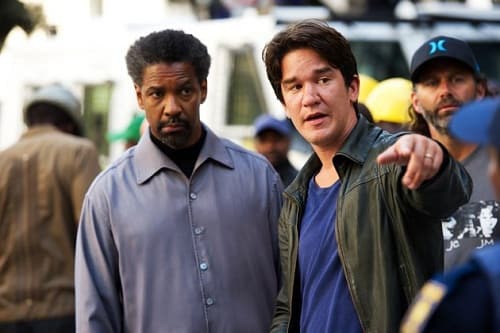 Denzel Washington (
What do you think is his best thriller?
) is Tobin Frost, the world's best CIA interrogator who has gone rogue for the last decade by selling U.S. secrets to the highest bidder. Ryan Reynolds portrays Matt Weston, a CIA operative who is manning the agency's
Safe House
in Johannesburg, South Africa that hasn't seen any visitors for the last 12 months.
Immediately Espinosa felt a connection with his star. Washington brought priceless value to the table long before cameras began shooting. "After we met the first time, we had a great connection. That's why I think he decided to do the movie at all. He liked the Swedish movies I'd done before. He said he wanted to be a part of my work, my kind of cinematography. So from the get-go, I felt confidence that my system, the way I create movies that I do, had his support," Espinosa said.
"Further down the line, I asked the producers if I could write with Denzel. So I spent a couple of months meeting up with him and discussing the script. And the ice was more broken. You have some creative disagreements and you allow yourself to have a conflict in a room where it's just you two. That way you get to know each another and get to know what's important for this interpretation of this character. So when we went to shoot the movie, we were brothers in arms."
Espinosa's biggest challenge filming
Safe House
in South Africa was making the multitude of action sequences appear unlike anything audiences have seen since a certain legend choreographed cinematic brilliance. "I decided not to have any special effects or CGI. I wanted to do action sequences that had more to do with (John) Frankenheimer," the director said of
The Manchurian Candidate
and
Ronin
director.
"What gave me the most fear in the beginning was the amount of action this movie had. I always thought I am pretty confident that I can put the camera wherever I see fit, if I can see the situation in front of me. I had no idea what kind of structure you need to create to be able to practically show those car chases that I did. But when we actually did start working on those action sequences, they weren't that hard [
laughs
]. They were very much what you see is what you get."
In the film, after Frost comes out of the cold into Reynolds'
Safe House
, the facility is ambushed. Reynolds and Washington are then off on a cat-and-mouse chase that has multiple layers of complexity for what could have been a run-of-the-mill thriller. "I was looking for an almost classical, archetypical story that had the classical arcs between two characters," Espinosa said.
In his previous directing efforts, he became intimately familiar with the prospect of increasing the tempo and the pacing for his own storytelling. "The importance and dominance of the plot was bigger than in movies that I'd done before and that affected my work with the characters in a new and interesting way… So when I got the offer to come to America, what I was looking for was a script that had even stronger pacing to see how long can I maintain the characters and what happens to the storytelling. Also, what can I get away with when the plot is this strong. For me, part of it was almost an experiment to see how my set of skills are affected by this kind of rhythm."
Filming in South Africa also allowed the director to explore the varying landscapes and economic strata of the country -- an aspect of the film that fits that glove perfectly.
"I wanted to shoot in a city that had an interesting socioeconomic factor because the thing with shooting this action movie is it's also a road movie. The tradition in road movies is you enter different worlds and those worlds affect the characters and push the characters," Espinosa said. "I wanted a city that had that different socioeconomic landscape so I could go through almost all the different economic classes with these characters."

To complete the mouse part of his cat-and-mouse thriller, Espinosa felt blessed by his nabbing Reynolds. "I met him in a very unique position in his career. He had just done Buried. I think in that movie he did his best performance to date. He was at that time shooting Green Lantern and I felt that he really wanted to enter my world and my system of making movies," Espinosa said.

The Safe House director easily saw connections to one of Hollywood's true greats in Reynolds. "He has a quality in him almost like a young Robert Redford. When I analyze Robert Redford movies and how the characters were portrayed in his early movies, he was never flirtatious with the camera. He never pushed his charm. He just played the scenes in movies like Three Days of the Condor. I saw an opportunity to go down the same path with Ryan."