French actress Nora Arnezeder was beyond thrilled that her first American movie, Safe House, was one that starred two of Hollywood's biggest box office draws. "One day, if I have kids, I can tell them I did a movie with Denzel Washington and Ryan Reynolds. It's an honor," she said in our exclusive interview. "I'm sure they're going to be impressed."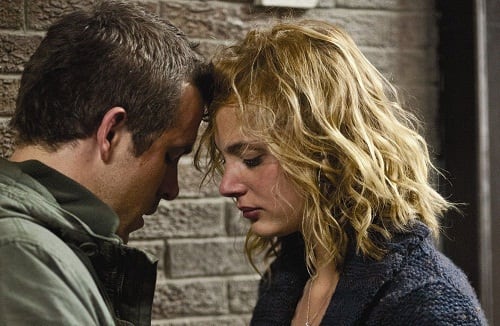 They should be as
Safe House
is not only a star-packed film that also features Sam Shepard, Brendan Gleeson and Vera Farmiga, but is a real barn-burning thriller. What impressed her the most about appearing in the film, beyond the names on the marquee, was how the film was an action film, but worked so well from inside the human head. "It's very psychological," Arnezeder added. She was also drawn to the project because she is a fan of director
Daniel Espinosa
's last film,
Snabba Cash
. "I thought it was such a special movie. He's such a smart director. I had to work with him."
Espinosa, even though he knew that Arnezeder had the challenge of acting in English for the first time, insisted she find what's real in the most unreal of extraordinary situations that is the premise of
Safe House
. "He insisted on just to be in the moment and not trying so hard. He really pushed me into real emotions," Arnezeder said.
The actress spends all of her scenes as Reynolds' love interest. The two are clearly deeply enamored of one another onscreen, and Arnezeder treasured the openness of the actor working across from her. "It's such a blessing to work with him. He's such a good listener. We have a lot of improvisation together. I was blown away. It was my first American movie and I wanted to do well, especially because it was in English," she said. "Ryan helped me so much with that. He was so generous helping me with my English [
laughs
]. The chemistry was there right away."
One scene was particularly tough. She had to spend an emotionally charged evening striking Reynolds over and over. "I felt so bad for that," Arnezeder said and laughed. "We had to do that scene so many times. It's very hard. I was scared to hurt him for real. When you are channeling all that emotion, I was afraid it would be too strong. But, he was very brave."
Oftentimes the romantic interest of the lead characters in action movies can be window dressing. On Safe House, Arnezeder saw none of that in her character Ana Moreau. "She's not the female bean pole that you expect in an action movie. Also there were many scenes that allowed me to express lots of different emotions. That was interesting. I appreciated how far she would go for love," she said. "Even when he tells her that he works for the CIA at the end, of course she's very disappointed, but she's ready to stay with him. You could work with so much when you're portraying someone who is so in love."

Sounds like the entire Safe House experience was one to treasure for Arnezeder, doesn't it? Well, returning to South Africa -- where she had filmed a French movie before -- made the effort even sweeter. "I was there five years ago and when they said that we're shooting Safe House in South Africa, I was so happy to go back," the actress said. "There is such a spirit there. You get inspired by this place. It's hard to explain the beauty of it. There is a very special light. I would recommend painters to go there and paint what they see. It is so brilliant."