The Secret World of Arrietty is an international sensation. Disney has taken the anime movie and kept everything intact on screen, but taken a set of American voice talents who provide the dialogue where once was the Japanese language. Movie Fanatic saw the film on the Disney lot with a vocal cast that brought their A-game.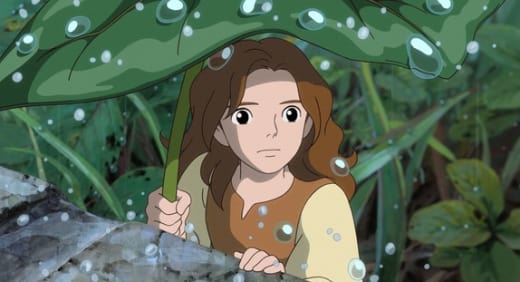 Bridgit Mendler
is the title character, who is a member of a tiny species of people called the Borrowers. Those who read the iconic book series know all too well how compelling their stories can be. Will Arnett steals the movie with his take on Arrietty's dad, Pod. He is commanding, fatherly and hits the right notes of the concerned father of a teenage girl. Regardless of his half-foot size, Arnett's Pod is the perfect larger-than-life animated film father figure.
The Borrowers get their name from the fact that they "borrow" items from larger humans' homes that they will not miss. Items such as a small sugar cube can last them months. The film hints at the fact that Arrietty's family believes that they are amongst the final of their kind. Whether that is true or not is revealed before the credits roll and leads us to want more
Arrietty
.
The supporting cast includes Arnett's real-life wife Amy Poehler as Pod's wife and mother to Arrietty.
Carol Burnett
steals scenes as Hara, a house helper who is determined to expose the little people that walk inside the walls of the house where an older couple lives and takes care of their sick, teenage relative Shawn. Once Shawn sees Arrietty, Arnett and Poehler decide they must move as they have been discovered. What they don't realize is that in Shawn they may have their greatest ally.
The history of the film begins and ends with director Hiromasa Yonebayashi, the man who helped create the artistry of Ponyo and Spirited Away.

Disney has struck a brilliant stroke with the English version of an animated instant classic that treats its canvas as Monet did with vibrant colorful landscapes that are irresistible. When you couple that with a storyline that draws in the viewer from the get-go, The Secret World of Arrietty is another Disney dynamo.