Big Miracle star Ted Danson is known for being a stellar actor, but also his decades of work as an environmentalist. You can imagine our surprise when seeing Big Miracle and witnessing his fantastic work as an Alaskan oil executive who thrives on the ire of environmental groups. His character J.W. McGraw, much like the Grinch at the end of that iconic Dr. Seuss tale, finds his heart and joins the effort to save those three trapped whales. The film is a true story based on how the world rallied in 1989 to do everything they could to free three whales from being trapped under ice.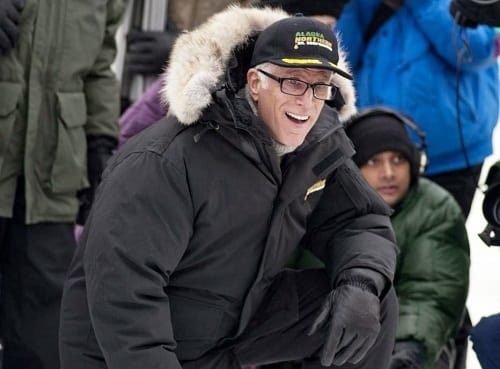 Danson immediately weighed in on whether meeting the real life person helps your portrayal. "My character was in jail. So the answer is no," he said to Movie Fanatic and laughed. "But seriously, I'm almost tempted when I'm playing somebody not to meet them. Afterwards, maybe. 'Cause the job's the same. You still have to show up on screen and be alive and real and all that stuff."
The actor, currently starring on
CSI
, was drawn to the inspirational true life tale because of all the factors that went into making this an international story that still is inherently local. "You have the environment, which is just the wildlife -- the beauty is just astounding there. And you have oil and almost everybody and their uncle works somehow for the oil company. Then you have the Inupiat Indians who get to sustainably harvest whales, and literally there are religious, spiritual cultures based on whaling. And then you have Shell wanting to drill offshore," Danson said.
"It's a great story because it really is an Alaskan story too. All the while, it tackles the complex question of, how do we live today with our environmental resources dwindling? How do we sustain ourselves with energy? All of those questions were being faced and dealt with in this movie in such a light-hearted, non-preachy way that it's really, I think, a great film for exactly what we're going through today."
Danson, while filming
Big Miracle
, was also doing his work for his environmental group Oceana (he's writing a book on the subject by the same name). As part of the book and his environmental efforts, the actor met with the head of Shell Oil. It provided an interesting situation to say the least.
"One of the things I was doing was interviewing the head of Shell in the afternoon for the book. Afterwards, we went separately to a Department of Interior meeting about the Shell drilling," he remembered. "I was standing up, being the out-of-town environmentalist, when everyone in the room was making money off of the oil company. Then sitting there I talked to some of the Inupiat Indians -- whose culture, religion and everything is tied up with whaling and the ability to keep whaling. It was really an amazing criss-cross of my interests in life in this film. And I got to play an oil guy, which was so much fun!"
The dichotomy of playing an oil exec and being one who is against it was clearly not lost on the
Big Miracle
star.
"I, in my environmental growing up, grew up around oil people. They're great people, they're you and me. They're people whose jobs are to provide us with energy. I don't agree with everything, but they're really nice people -- so it was not a problem at all," Danson said.
But, he did delight in portraying his character in Big Miracle (don't miss our exclusive with Danson's co-star Dermot Mulroney) because J.W. was not one of those "good" oil people. "My particular guy had done some bad stuff and was in jail. I felt I had some carte blanche to make him just a little silly," he said.

At the end of the day, we wonder if Danson has seen any progress in the environmental fight. "You will always have this fight, you will always have the fight for the need for more energy, dwindling resources, trying to balance the environment. I think you will always have this fight. I think more people are educated about it."