Movie Fanatic was treated today to witness not only the new trailer for The Amazing Spider-Man, but also a sizzle reel. On display was Andrew Garfield as Peter Parker/Spider-Man and a slew of scenes that have yet to see the light of day... until now.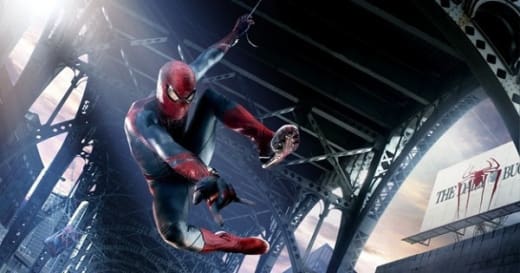 Our first impressions are many. The trailer, for one, is astounding and should send the buzz meter into the red. Seeing it in 3D on the big screen was an utter delight and a true honor for this Spider-Man fan. The sizzle reel was momentous in its ability to transform a professional journalist into a teenage fanboy with minutes of footage that allows us to get a solid impression for what we are in for when
The Amazing Spider-Man
hits theaters July 3.
Garfield kills it as both Spider-Man and Parker. He could not have been a better choice and he's also a stellar spokesman for the franchise.
The footage was simultaneously broadcast from our Los Angeles site to groups gathered in New York City, Rio, Mexico City, Paris, Berlin, Madrid, Rome, Moscow, Sydney, Tokyo, Seoul and London. Garfield was in New York and when asked why he wanted to play Spider-Man, his answer was impeccable. "Because I'm not an idiot," he said to raucous laughter heard around the world. The actor also stated why it was so important for him to get the portrayal as perfect as he possibly could. "Spider-Man belongs to everyone. I'm just the guy wearing the suit. I wanted to do right by the fans."
Judging by what we saw today, he nailed it.
Emma Stone plays Gwen Stacy, the love interest for Peter Parker. Her excitement for being in the franchise was evident all the way from Rio. She spoke to how Stacy is different from Mary Jane, the love interest in the Sam Raimi-directed trilogy. "Gwen is the yin to MJ's yang," Stone said. "They could not be more polar opposites. For one, she comes from a wealthy family and has a good relationship with her father. Also, she falls in love with Peter Parker, where MJ falls for Spider-Man."
Rhys Ifans is the film's villain and what appealed to him about the role is how the evil-doers in the Spider-Man universe have a human element. "They're flawed, just like us," he said in London. "That's why Spider-Man villains are set apart from other superhero villains. They could be any one of us."
Director
Mark Webb
was in LA with Movie Fanatic and promised that this is a world of Spider-Man unlike fans have ever experienced. "This is a never-before-seen world of Peter Parker. We meet his parents, which were not featured before," Webb said. Proof of that fact is seen in the first
The Amazing Spider-Man trailer
. "What happens to them truly shapes who Peter Parker becomes."
Stay with Movie Fanatic as at the stroke of midnight, Pacific time, we bring you the brand new
Spider-Man
trailer that we were lucky to witness earlier today!