The British Academy Film Awards (BAFTA) gave The Artist more momentum towards its Oscar Best Picture push by naming it Best Picture of the Year at its annual ceremony in London.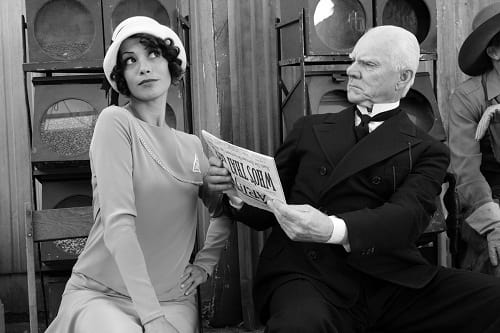 The Artist
won seven BAFTAs, including Best Male Actor for Jean Dujardin, plus Best Director and Best Original Screenplay for Michel Hazanavicius.
The only British film to earn a Best Picture nomination,
Tinker, Tailor, Soldier, Spy
, had to settle for two awards: Top British Film and Adapted Screenplay. The spy thriller, based on John le Carre's iconic spy novel, began the night with 11 nominations, one behind
The Artist's
total.
In his acceptance speech, Dujardin spoke to the universal appeal of
The Artist
, despite its being a silent, black-and-white film. "It's a simple story. It's a love story. It's universal," he said. "And there's a cute dog!"
The French film also won awards for costume design, musical score and cinematography.
Meryl Streep was named Best Actress for her portrayal of British political icon Margaret Thatcher in
The Iron Lady
. Given Streep's incredible transformation into the U.K.'s first female PM, the film's awards for hair and makeup were not a surprise and seriously deserved.
The Supporting Actor winner was Christopher Plummer for
Beginners
, continuing his seemingly unstoppable run to winning the
Oscar for Best Supporting Actor
. Meanwhile, Octavia Spencer continued her own steamrolling award season by winning Best Supporting Actress for
The Help
. In her speech, Spencer thanked the British Film Academy for recognizing her film, despite what people may have thought of a strictly American film. "Some have called
The Help
an American movie about American problems and American history," she said. "I am so grateful to you for seeing past that -- because surely oppression knows no gender, no sexual orientation, no country."