As The Avengers debuted a new poster this morning, and their latest trailer arrives tomorrow, the cast is opening up about getting inside their sometimes dual-minded characters. "There's a maturity to the character because of the journey he went on, certainly," Chris Hemsworth (Thor) said to Entertainment Weekly. "He was a petulant sort of kid at the beginning of Thor, and by the end of it hopefully you walk away thinking that he is matured and there was a grounded quality to him that wasn't there before... He's [also] not quite the odd one out as much as he was in Thor. These guys, one of them wears an iron suit, one of them turns into a big, green monster. They all have these crazy personalities, and alter egos. They're misfits, and that's how they fit, in a funny way."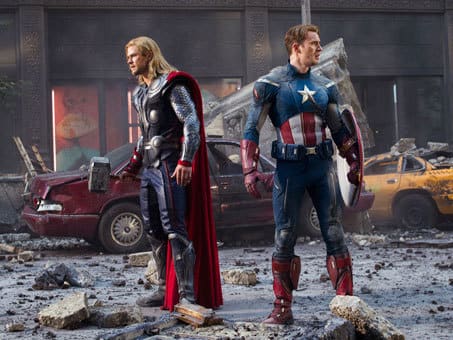 Robert Downey Jr. is personally blown away at how a studio that was once barely on anyone's radar has pulled off the impossible feat of a multiple superhero movie. "
Avengers
has always been this kind of hovering [thing]. Is it really possible? I just think that it was an incredibly ambitious notion, and looking back at Marvel and their fledgling years, they always had a vision of this," Downey said.
What struck us the most in the
EW
interview was Evans' take on his character. As you know from the end of the
Captain America
movie, his superhero is the classic fish out of water. "Who does he have in the world? Nobody. Rogers is kind of defined by his morals and values," Evans said. "In the 1940s there was much more of value on those things. Things are a little more impersonal these days."
We're also getting our first insight into Mark Ruffalo and his characterization of the Hulk and his alter ego, Bruce Banner. In fact, he compares Banner's awareness of Hulk's actions to an alcoholic recalling memories after a bender. "[Banner] starts like he's sober in a weird way. He's started a whole new life when we find him, and it's cool," Ruffalo said. "The rage is something that is like going on a binge and you wake up after a blackout and you did all this (expletive) up (expletive)."
Stay with Movie Fanatic as we bring you
The Avengers
' latest trailer tomorrow morning at 9 a.m. PST sharp!