When Tom Brokaw decided to fill the final two minutes of his NBC Nightly News broadcast one evening in 1988 with a story about three whales trapped beneath the ice around the Arctic Circle in Alaska, he began a phenomenon. Such is how the true tale Big Miracle takes off.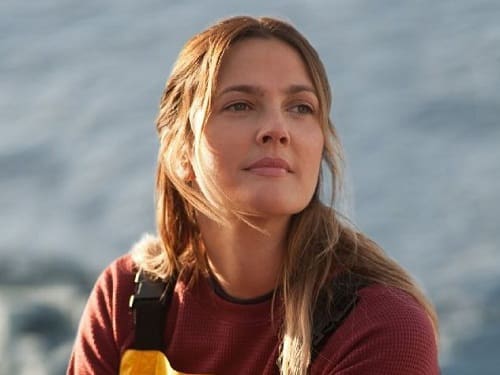 John Krasinski
is an Anchorage, Alaska field reporter who after a week of soft news in one of the state's most northern towns, Barrow, is ready to come home. Then, he meets Fred, Wilma and Bam Bam. Those three are a mom, dad and baby whale who are clinging to life five miles from the ocean where they need to be migrating south. Blocked by huge amounts of ice, they only survive by breathing through a small hole in the ice that is slowly closing as the temperature plummets.
Krasinski's reporter catches the story by chance, Brokaw does his thing and the world responds. The story becomes an international sensation involving millions across the nation, all the way to the Ronald Reagan White House.
As directed by Ken Kwapis,
Big Miracle
is a movie that doesn't quite know what genre it is, and that is why it works. The film is a race-against-time rescue film, sweeping cross-country romance and human interest story that reminds us that when we work together there is nothing we cannot accomplish. The crazy thing is it's all true. The more astonishing feats and ditties that arise out of this film might make you say the film is "too Hollywood." That's impossible given the fact that it is documented. Kwapis even utilizes real video from the period to emphasize the film's astounding points.
Drew Barrymore is an ex-girlfriend of Krasinski and Greenpeace worker who immediately mobilizes to do everything to save the whales. The actress channels all the right emotions in her characterization. She is fierce, fallible, and all compassion. Her chemistry with Krasinski is palpably subtle as it expands over the course of the film. Barrymore also never goes over the top in her portrayal of a nature nurturer confronted with her worst nightmare.
The supporting actors are perfectly cast.
Ted Danson
leads the charge as a (maybe) corrupt oil executive seeking to drill, baby, drill.
Dermot Mulroney
portrays a National Guard pilot with panache charged with bringing an ice-breaking barge hundreds of miles… towing it by a helicopter. Kristen Bell channels her California girl persona winningly as a Los Angeles beat TV reporter who sees the whales as her ticket to a network gig. And Rob Wiggle is both sensitive and hilarious as one half of a Minnesota duo whose invention may just be the thing that frees the whales.
Big Miracle is one of those films that is perfect for the whole family because it covers a serious topic with such levity to which all can relate. That is slightly a problem in that the film fails to ignite a fire across its scope that does more than tell a story that is profound, globally inspiring and at its core true. Kwapis could have made this film in the same manner, but turned his camera on those who took over the small Alaskan town to cover the story that inspired the world. Big Miracle's tale could be seen as the birth of our obsessive news culture. After the world's journalists left Barrow, they would land in New York for the Joey Buttafuoco story, Los Angeles for the OJ story and then proliferate to where we are today.

Big Miracle is not that story. It is instead shown from the eyes of wonder of a child, sitting in the dark watching a powerful movie with their parents. In that, it scores.