The cast and director of The Hunger Games, Gary Ross, recently got the front page treatment by The Hollywood Reporter. The most striking aspect of the entire piece is nine secrets of the highly anticipated film.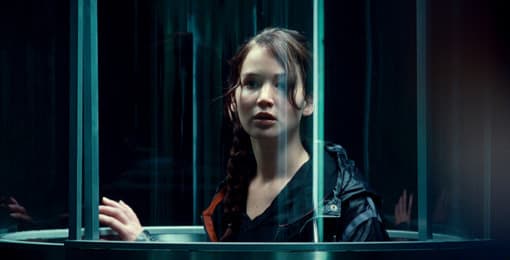 1. All three leads are required by contract to do all three movies in Suzanne Collins' trilogy.
Guaranteeing congruency in the series, Jennifer Lawrence, Josh Hutcherson and Liam Hemsworth will be part of all three films.
2. Jennifer Lawrence took three days to say yes to role of Katniss.
Although a slew of other actresses publically lobbied for the role including
Shailene Woodley
(
The Descendants
) and Hailee Steinfeld (
True Grit
) it still took Lawrence 72 hours to decide she wanted to do the film.
3. 100-degree heat wasn't the only threat to everyone's health on the set, there were bear sightings!
There was a contingent of bears living near the set, 300 at final count. Although the searing North Carolina heat took its toll, the presence of the bears was almost more frightful to cast and crew.
4. Director Ross had to fight harder for
The Hunger Games
directing than for anything prior in his career.
Ross has never helmed a film that didn't come from his own mind, such as
Pleasantville
. So, producers wondered if he'd be up for the gig of bringing someone else's vision to life.
5. Lawrence's salary for the first film is paltry compared to some big budget pictures.
The film's star is earning $500,000, much less than most would think for a film that is practically guaranteed to earn a billion dollars.
6. Remember that Lawrence on set accident? It almost ended
Hunger Games
production.
Lawrence was almost complete with her six week training for her role as Katniss. She was doing wall runs (where you run full speed at a wall in order to get the momentum going enough to scale it) when she ran face first into it. Initially, it was thought she broke her spleen. Luckily, it was just badly bruised.
7. The movie's final total cost
Lionsgate was quite tight with the budget for the film that is sure to be a blockbuster. They had initially hoped to make it for $60 million, but with special effects shots, the budget swelled to a final tally of $90 million. We predict they make that back in the first weekend. 
8. Liam Hemsworth's brother informed him he had to lose weight in order to be a believable Gale.
"My brother Chris texted me before shooting and told me to lose weight," Hemsworth told
THR
. "He said, 'It's called
The Hunger Games
, not
The Eating Games
!'"
9. Although they are out promoting it already, the cast of the film has yet to see the film.
It seems that everyone, even those who worked on it, will be kept in the dark a little longer.