Fans of the Suzanne Collins book The Hunger Games are beyond thrilled to see the adventure on the big screen when it arrives March 23. Imagine how thrilled they will be to learn that for one week only, the film will be on the biggest screens known to man.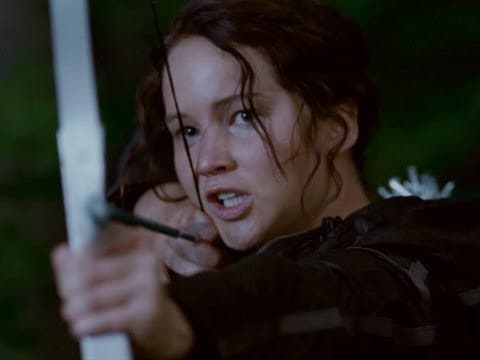 It was announced today by Lionsgate and IMAX Corporation that the film starring Jennifer Lawrence as Katniss will be released on IMAX for one week only, beginning that fateful March 23.
The blockbuster book trilogy has sold over 23.5 million copies in this country alone. That's quite a built-in audience for any film series. Clearly IMAX Chairman Greg Foster is a little excited.
"
The Hunger Games
is one of the most popular properties in recent memory and we're excited to offer this passionate fan base the opportunity to experience this exciting adventure in the most immersive way," Foster said in a statement. "We're proud to kick off our relationship with Lionsgate around this highly anticipated film that will make a strong addition to our 2012 film slate."
The Gary Ross-directed film also stars Woody Harrelson, Lenny Kravitz, Donald Sutherland, Josh Hutcherson and Liam Hemsworth.
Guess what? Movie Fanatic is giving away tickets to the film's premiere. At 10 a.m. today, your chance begins!